Elections
Showing 11 to 15 of total 43 records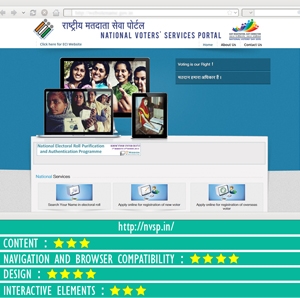 Lokesh Joshi,
lokesh[at]nic[dot]in
|
May 11, 2016
National voter's services portal is owned by the election commission of India which is a permanent Constitutional Body. The Constitution of India has vested in the Election Commission of India the superintendence, direction and control of the entire process for conduct of elections to Parliament...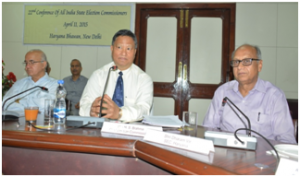 Neeraj, Haryana
s[dot]neeraj[at]nic[dot]in
|
Apr 17, 2015
On 11th April 2015 22nd conference of All India State Election Commissioners were held at Haryana Bhawan New Delhi. Sh H S Barhma, Chief Election Commissioner (Election Commission of India) chaired the conference, Sh Dharamvir State Election Commissioners (SEC), Haryana convene the conference whereas...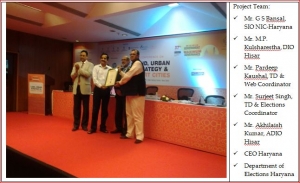 Poonam Gupta, Haryana
poonam[dot]g[at]nic[dot]in
|
Sep 26, 2014
A unique web portal having e-Dashboards for monitoring polling process on pre-polling day, polling day and on counting day from across the state and dissemination of key information instantaneously on Internet was developed & implemented in close coordination with CEO Haryana. NIC's...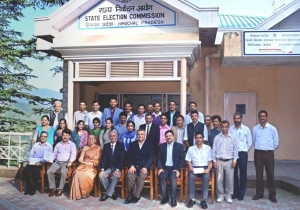 Sandeep Sood, Himachal Pradesh
sood[dot]sandeep[at]nic[dot]in
|
Sep 1, 2014
The Electoral Rolls Management System initiative of the State Election Commission, Himachal Pradesh has been awarded the State Civil Services Award 2014, on Independence Day, 15th August 2014 at the State level function held in Nahan, District Sirmaur. The Secretary of the Commission, received the...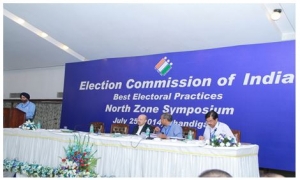 Poonam Gupta, Haryana
poonam[dot]g[at]nic[dot]in
|
Aug 5, 2014
A North Zone symposium on Best Electoral Practices was held on 25th July, 2014 at Hotel Mount View, Sector-10, Chandigarh. There were 30 participants (Chief Electoral Officers, Addl. CEOs, IGP Ranges/ SPs & District Electoral Officers) from Northern States/UTs (Punjab, Haryana, Himachal, UP, J&K,...