Himachal Pradesh Civil Services Award 2014 for the Electoral Roll Management System (ERMS) Initiative
Sandeep Sood, Himachal Pradesh
sood[dot]sandeep[at]nic[dot]in
|
Sep 1, 2014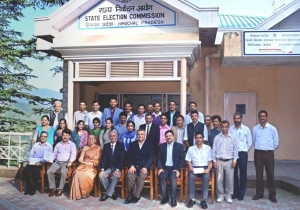 The Electoral Rolls Management System initiative of the State Election Commission, Himachal Pradesh has been awarded the State Civil Services Award 2014, on Independence Day, 15th August 2014 at the State level function held in Nahan, District Sirmaur. The Secretary of the Commission, received the award, which was presented by Sh. Virbhadra Singh, Honourable Chief Minister of Himachal Pradesh. The Award carries a Plaque and Rs.2.5 Lakhs cash award. The entire team, involved in this process re-engineering, including Chief Electoral Officer, Himachal Pradesh, Additional CEO, SDMs and BDOs, NIC Officers, Commission officials, were honoured by the State Election Commissioner by presenting them with Appreciation Certificates.
The NIC Himachal Pradesh has developed the ERMS application to re-generate the Electoral Rolls for State Election Commission (SEC), Himachal Pradesh from the Election Commission of India electoral rolls. After successful implementation of ERMS, the Commission has successfully generated Electoral Rolls to conduct Elections held in the last 3 years (including general elections). The ERMS consumes the basic data generated by Election Commission of India (ECI) to map elector's Panchayat/ULB and Ward which is the lowest unit of constituency in local elections. All the annual revisions carried out by ECI are amalgamated in SEC data to keep the Rolls up to date.
The ERMS has led to saving of cost in terms of paper and manpower as most of the needs of Electoral Rolls are now met with electronic copies as well as availability of rolls on internet. There are indirect costs in terms of saving of precious man-hours of teachers involved in field level house to house enumeration.
The efforts put in by software development team of NIC Himachal Pradesh have been recognised by the Commission. The Appreciation Certificates were given to Sh. Ajay Singh Chahal, Sr. Technical Director & SIO NIC Himachal Pradesh, Sh. Sandeep Sood, Scientist-D and Smt. Vandana Dhiman, Scientific Officer-SB.