NIC Assam Application 'Kritagyata' bags CSI Award of Recognition
Kavita Barkakoty, Assam
asm-kavita[at]nic[dot]in
|
Apr 25, 2022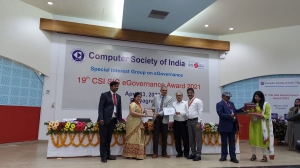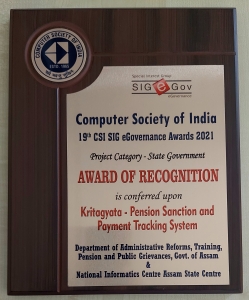 Guwahati, NIC Assam, April 24, 2022: Kritagyata -An online pension sanction and payment tracking system won 19th CSI SIG Award of Recognition. The Award was given jointly by Justice of Allahabad High Court and Director MNNIT at the Auditorium of Motilal Nehru National Institute of Technology, Prayagraj City on 23rd April 2022.

Kritagyata is a one-stop transparent ICT platform with a user-friendly interface. It is based on the Bhavishya platform of Govt. of India, an Application developed by NIC HQ. It has been customized to suit the needs of the Govt of Assam and implemented for the pensioners of Assam for timely and accurate calculation of retirement dues.

The NIC Assam team is led by the Project Head, Ms.Kavita Barkakoty, Senior Technical Director, and Project Lead, Shri Manabendra Goswami, Technical Director, under the leadership of DDG & SIO, Dr. Suchitra Pyarelal. Kritagyata Project is a collaborative effort of NIC Assam and NIC HQ and it has been customized with the support of NIC HQ Bhavishya team of Shri Deepak Shirahatti, Scientist-F & Project Head, and Shri Anil Bansal, Scientist E & Project Lead, under the leadership of Shri Pawan Kumar Joshi, DDG & HoG.

Kritagyata provides all required information and guidance on retirement procedures, automates calculation of benefits based on individual user specifics, enables real-time application status tracking, and initiates timely activity and status alerts. Pensioners are able to do all these without making physical visits. On the part of the office also, all verifications, approvals and sanctions are being done online resulting in overall huge savings in time and effort.