Hon'ble CM Haryana Shri Manohar Lal distributed Certificates under Various Government Schemes integrated with Parivar Pehchan Patra on 07/04/2022
Deepak Sawant, Haryana
sawant[dot]deepak[at]nic[dot]in
|
Apr 8, 2022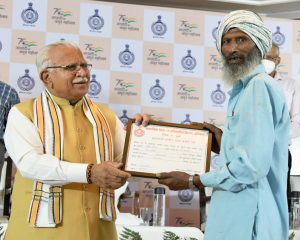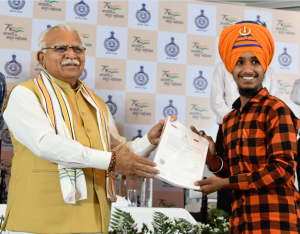 Aligning with vision to ensure smooth and proactively trouble free service delivery in different Government schemes, Hon'ble Chief Minister of Haryana on 07/04/2022, distributed BPL Ration Cards, Old Age Sammaan Allowance Certificates, Caste Certificates and Ayushman Bharat Certificates integrated with Parivar Pehchan Patra (PPP) to the eligible beneficiaries organized at Haryana Niwas, Chandigarh at state level function.
The income and caste verification survey of families is done under state flagship Parivar Pehchan Patra (PPP) in all districts. After this survey about 80,000 new ration cards on proactive basis have been made of families having income less than Rs. 1.80 lakh in Sirsa and Kurukshetra districts. Furthermore, ration cards of the families whose income was higher in the survey have been automatically discontinued. There are 10,000 such families in Sirsa and 16,000 in Kurukshetra. State is planning to roll out this facility in all the districts in May, 2022.
District level functions were also organized at all the 22 districts which were chaired by Cabinet Ministers, State Ministers and the local MLAs in the DC Offices to distribute 5 caste certificates and 25 Ayushman Cards prepared on proactive basis. All these districts were connected through video conference with the main function.
This was the joint activity of Citizen Resource Information Department(Haryana), Food and Supply Department(Haryana), Health Department(Haryana), NIC Haryana and NIC AePDS team, Hyderabad who customized Allocation, Supply Chain Management & Distribution system for Haryana on Open Source Platform.
The new PDS system has also been integrated with the One Nation One Ration card with the active support from NIC Delhi ePDS/IMPDS team for nationwide ration card portability.