Awards
Showing 6 to 10 of total 195 records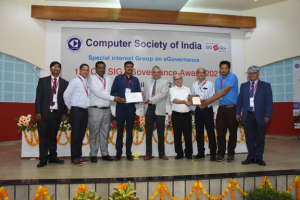 Deepak Sawant, Haryana
sawant[dot]deepak[at]nic[dot]in
|
Apr 25, 2022
NIC-Haryana State Centre received the CSI SIG e-Governance Awards for NICMeet (Desktop Video Conferencing Solution) under Central Government Project Category on 23rd April 2022 as part of the 19th CSI SIG e-Governance award 2021 at MNNIT, Allahabad, Prayagraj, Uttar Pradesh. ...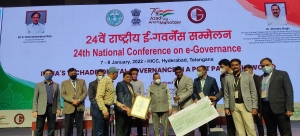 Y. V. Shreenivas Rao, Chattisgarh
yvsrao[at]nic[dot]in
|
Jan 24, 2022
NIC's eShramik Seva project for Labour Department, Chhattisgarh has been conferred National eGovernance Award (Gold) under the category 'Universalising Access including eServices'. This award was received from Hon'ble Union Minster Dr Jitendra Singh during the 24th National...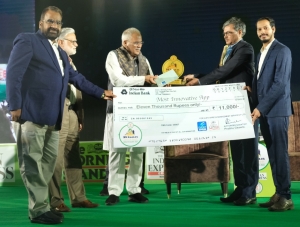 Y. V. Shreenivas Rao, Chattisgarh
yvsrao[at]nic[dot]in
|
Dec 10, 2021
The Chief Minister, Shri BhupeshBaghel, at the Kisan Summit and Award Ceremony held at Raipur on 6th December 2021, felicitated Vice Chancellor Dr. S.S. Sengar, Dr. R. R. Saxena of IGKV and Scientist Shri Abhijeet Kaushik of NIC, Chhattisgarh with citations and prize money cheque for eHaat–...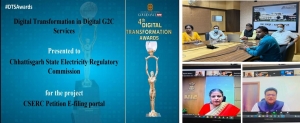 Y. V. Shreenivas Rao, Chattisgarh
yvsrao[at]nic[dot]in
|
Nov 27, 2021
Governance Now, organized the fourth edition of "Digital Transformation Summit & Awards" on 18th November 2021. The Petition e-Filing system of CSERC received the award for digital transformation services under G2C category. Shri HemantVerma, Chairman of the CSERC received...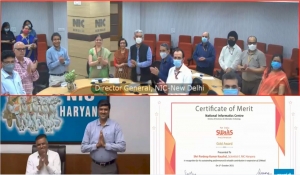 Deepak Sawant, Haryana
sawant[dot]deepak[at]nic[dot]in
|
Oct 4, 2021
NIC Haryana has received two Gold awards for best implementation of National Level Projects in Haryana. The Director General, NIC, Ms. Neeta Verma presented the awards through virtual mode on 01/10/2021. Sh. Pardeep Kumar Kaushal, Scientist-F, NIC Haryana received Gold award for best...