Digital India Silver Award 2022 for Business First (Invest Punjab) Portal of Government of Punjab
Parminder Kaur, Punjab
parminder[dot]kaur[at]nic[dot]in
|
Jan 23, 2023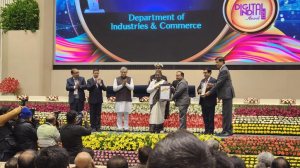 Business First (Invest Punjab) Portal of Department of Industries and Commerce, Govt of Punjab has received Digital India Silver Award 2022 conferred by Hon'ble President of India, Smt. Droupadi Murmu, under Ease of Doing Business category. The portal has been developed and maintained by NIC Punjab since its inception in the year 2015.
The awards ceremony was held in the presence of the Shri Ashwini Vaishnaw, Minister of Electronics & Information Technology, Railways, and Communications, Shri Alkesh Kumar Sharma, Secretary, Ministry of Electronics & Information Technology, Shri Rajesh Gera, Director General, National Informatics Centre (NIC) in Vigyan Bhawan, New Delhi on 7th January 2023.
The award was received by Sh. Sibin C, IAS, Secretary & Director (Industries & Commerce Punjab) and Sh. Vivek Verma SIO Punjab along with Sh. Vishaw Bandu, Deputy Director (Industries and Commerce) and Project Manager Sh. Navinder Sharma, Deputy Director (IT)/ Scientist-C.
Business First is a user-friendly state of art portal to facilitate new and existing investors to obtain Regulatory Clearances & Fiscal Incentives for setting up and running businesses in the State of Punjab. Business First ensures world class facilitation to the investors, right from conceptualization of the project till commencement of commercial operations and thereafter Renewals and Fiscal Incentives. Taking forward the Ease of Doing Business Campaign under Digital India Initiative, Government of Punjab has brought all stakeholder departments and investors on the single platform with role based Smart Dashboards.
Business First (Invest Punjab) portal has become backbone of Ease of Doing Business in Punjab. More than 26 Departments are on board with more than 100 Regulatory Clearances and 36 Fiscal Incentives.  It has played a vital role in upgrading EoDB Ranking of the state and Punjab has achieved "Top Achiever" category in EoDB Ranking. Using Data Analytics and dataset of last 3 years, the team has prepared new Checklist Based Scrutiny Engine in first phase. This has brought standardization and transparency in scrutiny of applications all over the State.