NIC, Punjab and State Excise Punjab (eAbkari-Punjab) bags coveted Technology Sabha Excellence Award 2023 at Technology Sabha Conference 2023 in Kochi (Kerala)
Parminder Kaur, Punjab
parminder[dot]kaur[at]nic[dot]in
|
Mar 9, 2023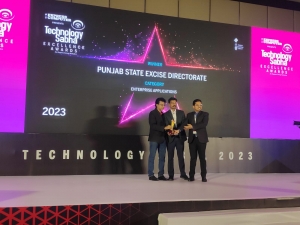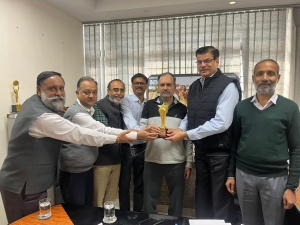 Technology Sabha Excellence Awards honour Government Departments/Agencies/ Institutions that demonstrate innovative use of a particular technology or a combination of technologies for distinct benefits to the stakeholders.
NIC, Punjab and Excise Department, Punjab bagged coveted Technology Sabha Award 2023 in the Category of Enterprise Applications at Technology Sabha Conference 2023 held in Kochi (Kerala) which was held from 23rd to 25th February 2023 at the Hotel Crowne Plaza, Kochi (Kerala).
eAbkari project is an end-to-end Supply Chain Management System for  Beverage Alcohol, Industrial Alcohol and Medicinal Alcohol.  Presently, more than 50 e-Services are being rendered in workflow-based manner for Grant & Renewal of Licenses, Packaged Liquor Brand Registration, Issuance of NOC/Permit/Passes for Import/Export/Transport of Bulk Spirit & Packaged Liquor, Real-time management of Spirit/Packaged Liquor Inventory and Excise Revenue and Management of Excise Offender Cases, Enforcement Activity.
The project has been seamlessly integrated with a wide array of modern ICT technologies - the web, QR codes, PUSH/PULL SMS, eMail, eReceipt, Geo-Tagging, Sandes Messaging Service and Mobile Apps.
Through successful implementation of eAbkari project in Punjab since 2019, it has been possible to render better EoDB services and plug revenue leakage points. It has also resulted in achieving 100% compliance of BRAP and EoDB.  Most importantly, this project is replicated in 9 other states and due to similarity of the Excise functioning of Haryana State, Excise Department, Haryana has shown interest to implement eAbkari-Punjab.
The team working under Sh. Vivek Verma, DDG and SIO Punjab comprised of Sh. S.S. Duggal, Senior Director, Sh. Anil Dogra, Senior Director and Sh. Devendra Kumar Singh, Scientist C.