NIC Haryana bags two CSI-SIG awards of appreciation at 20th CSI SIG e-Governance Awards, 2022
Deepak Sawant, Haryana
sawant[dot]deepak[at]nic[dot]in
|
Apr 10, 2023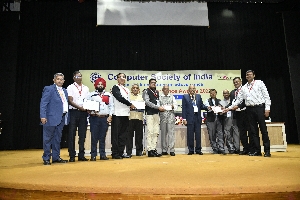 NIC Haryana has received two CSI-SIG awards of appreciation at 20th CSI SIG e-Governance awards, 2022. The award ceremony was held at Delhi Technical University, Delhi on 25th March 2023. The awards were conferred upon NIC Haryana for two state level projects:
Online Release Orders and Billing System.
Comprehensive Integrated suite for local bodies' elections in Haryana.
Online Release Orders and billing system is an ERP for Information Public Relations and Languages department, Haryana. It is one of its kind software implemented in any state Government and is a flagship project of Haryana Government developed with the purpose of achieving end-to-end computerization of release orders and billing processes for Government advertisements released on daily basis to various print media in the country. The system has been developed and hosted by NIC Haryana. The project involved lot of innovations in advertisement designs and process Re-Engineering, integration of payment gateways, SMS gateway and integration of Online Treasuries Information System of Haryana.
With the implementation of this system, complete process of receiving indents from various Haryana Government organizations, Generation of media plans, work flow based approvals, generation and uploading of Release Orders, Bills submissions by the news Papers, approvals of the bills, payments to the news papers has been made online. This has greatly simplified the processing and reduced the time of payments to the news papers. The Print media is greatly satisfied with this system and has asked other state Governments also to implement this system. Till date, 96,183 No. of release orders worth Rs. 210 Crore have been issued and 83337 No. of bills worth Rs. 177 Crore have been processed through this system.
The system also includes a comprehensive e-dashboard developed using open source ELK stack.
Comprehensive Integrated suite for local bodies' elections in Haryana is a suite of applications developed by NIC Haryana for State Election Commission, Haryana for management of local bodies' elections in Haryana. This suite of applications caters to end-to-end election processes and consists of following modules:

Voter list preparation for local bodies and Panchayti Raj Institutions by taking the ECI voter list as base data.
Voter helpline.
E-Employees, a web based software for preparation of employees data for poll duty. The system is integrated with HRMS system also.
Web based KYC (Know Your Candidate) used for uploading nominations along with affidavits and other documents of contesting candidates.
Online Ballot Paper preparation and online transmission of ballot papers to printing press.
Web based Election Duty Management System (EDMS)
Web based Poll Monitoring e-Dashboard.
Android based Mobile App to Sector Officers/Magistrate deployed in field to update Live Poll Dashboard
Android based Mobile app for Communication plan for effective management of Polling.
Result Declaration e-Dashboard.
MyGP (Meri Gram Panchayat) Mobile App (Flutter) for Data Updating/ Data Analytics/ Dashboards/Communication Plan.
The comprehensive suite of applications has become an indispensable tool for State Election Commission, Haryana for conducting elections to the local bodies in Haryana. The poll monitoring e-dashboard has been provided to neighboring states also for implementation.
The Awards ceremony was attended by Sh. Deepak Bansal, DDG and SIO NIC Haryana, Sh. M.P. Kulshreshtha, Sr Director IT and former DIO NIC Hissar, Sh. Pardeep Kumar Kaushal, Sr. Director IT, Sh. Amit Bansal, Deputy Director IT & DIO NIC Jhajjar along with officials from Information Public Relations and Languages department (DIPRL) and State Election Commission (SEC), Haryana.
The State Election Commissioner, Haryana, Sh. Dhanpat Singh, IAS (Ret.) and Director General, Information Public Relations and Languages Department Haryana, Sh. Amit Agrawal, IAS congratulated NIC Haryana for this achievement.