NIC Himachal Pradesh Projects Win Five CSI eGovernance Awards
Ajay Singh Chahal, Himachal Pradesh
ajay[dot]chahal[at]nic[dot]in
|
Mar 31, 2023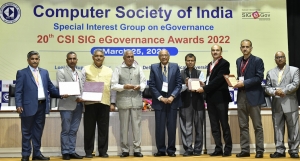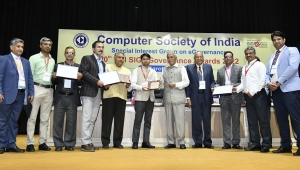 NIC Himachal Projects have won five CSI eGovernance Awards which have been received by the Project Teams of NIC HP in New Delhi on 25-March-2023. These Awards were conferred during the 20th CSI eGovernance Awards ceremony held at Delhi Technological University, Delhi. The Awards were presented by CSI Special Interest Group on eGovernance and Prof. K.K. Aggarwal, former Chairperson, National Board of Accreditation (NBA) was the Chief Guest.
The Group Heads of NIC Himachal Pradesh State, Sh. Lalit Kapoor, Sh. Sandeep Sood, Sh. Sanjay Kumar, Sh. Sanjay Sharma, Sh. Vijay Kumar Gupta, Sh. Shailender Kaushal worked hard and guided the project teams who worked in a coordinated manner for all these projects.
The Award winning projects are:
Works MIS Web Application for Jal Shakti Vibhag
(Award of Excellence) https://iph.hp.nic.in
PSCSoFT (Public Service Commission Software for Transformation)
(Award of Appreciation) https://hppsconline.hp.gov.in/HPPSC
Himachal Pradesh Real Estate Regulatory Authority – MIS
(Award of Appreciation) https://hprera.nic.in
HP Large Dams Safety Analysis MIS
(Award of Recognition) https://hpsdmaplan.nic.in/dams
HPAPPP (Himachal Pradesh Agriculture Produce Procurement Portal)
(Award of Recognition) https://hpappp.nic.in
The State of Himachal Pradesh has also received the Award of Appreciation for Progressive State in Digital Innovations. This is the natural outcome of the commendable work done in eGovernance by NIC Himachal Pradesh.