NIC Assam wins two Awards in ET DIGITECH Conclave held in Goa on 4th to 6th August 2023
Kavita Barkakoty, Assam
asm-kavita[at]nic[dot]in
|
Aug 17, 2023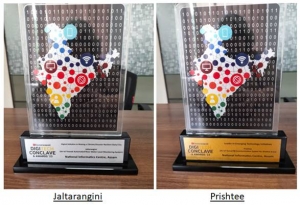 NIC Assam won two Awards in the recent ET DigiTech Conclave and award ceremony held at Grand Hyatt, Goa from 4th to 6th August 2023. One being for the "Jaltarangini- an IoT based Automated River Water Level Monitoring System" product in the Digital Initiative in making Climate/Disaster Resilient State/City category of Award and the other being "Prishtee-an IoT based RF Communications system for Shadow Area" in the category- Leader in Emerging Technology Initiatives. SIO Assam Smt Kabita Roy Das, DDG, received both the awards at a grand ceremony on 5th August 2023 at the Grand Hyatt Goa.  
"JalTarangini", a product of National Informatics Center (N.I.C) Assam with collaboration with Assam State Disaster Management Authority (A.S.D.M.A) is an effort to automate the traditional river gauge into an Internet of Things (IoT) technology-based river water level monitoring system which enables 24X7 real-time, reliable and seamless river water level reporting without human intervention. A web application along with a mobile application has been developed to better visualise and analyse the data sent by the IoT device. The model is portable, scalable, low-cost and energy-efficient. While doing the preliminary survey, it has been seen that many of the existing manual river water level gauges were installed in remote places on river banks. Monitoring and maintenance of these gauges involves huge financial expenditure moreover , traditional methods used for collecting data from gauge sites are not efficient and 24 X 7 reporting is absent. A low-cost, portable, energy-efficient, and mobile solution has been developed which has a capability to collect data from remote areas with 24 x 7 reporting and provide cloud-based infrastructure for processing, analysis, and visualisation of data sent by the IoT device. Analysed information can easily disseminate to the people downstream as alerts when river water level rises above warning level. The IoT device comprises several sensors that are wired to a board microcontroller. The river water level and temperature sensed by various on-board sensors got processed by microcontroller and then sent by commission module to the cloud where it is further processed and data got analysis ready. The data from the cloud infrastructure is used by both Web and Android applications for visualisation .  
There are around 9000 villages throughout the northeastern area of India without mobile phone coverage, according to a report in a prominent newspaper of the region. Additionally, when a natural disaster strikes, mobile communication suffers greatly. For instance, Dima Hasao, Assam had substantial disruptions to cell service during last year's i.e. May 2022 heavy rains and ensuing landslides. Due to this sad catastrophe, all major communication networks have completely collapsed, making mobile phones and other internet dependent gadgets unusable. This prompts us to think about developing an Internet of Things (IoT) technology-based communication system that can establish communication with the fewest requirements and in the quickest possible period. "Prishtee", a novel system designed by National Informatics Centre (NIC), Assam that utilizes Radio Frequency (RF) technology based on Long Range (LoRa) communication technology to transmit messages between mobile apps without relying on internet or mobile network connectivity. Prishtee enables seamless communication in remote areas, making it a valuable solution for emergency situations, disaster stricken regions, and rural communities. Experimental results demonstrate the effectiveness and feasibility of Prishtee in providing reliable communication.
Team Members :
Smt Kabita Roy Das, DDG & SIO Assam
Smt Kakoli Chaudhury, Scientist F
Sh Sujan Dev Purkayastha, Scientist E
Sh Monsoor Akhtar Barbuiya, Scientist C & DIO Hailakandi
Sh Surajit Phukan, Scientist B & ADIO Dibrugarh