Hon'ble Chief Minister, Himachal Pradesh Launches Searchable Digitized Gazettes Web Interface
Ajay Singh Chahal, Himachal Pradesh
ajay[dot]chahal[at]nic[dot]in
|
Sep 24, 2018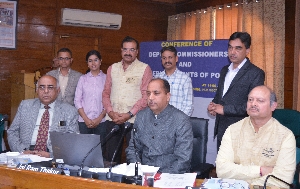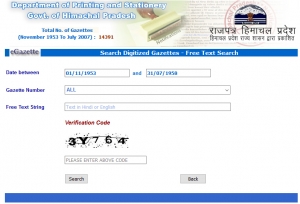 Sh. Jai Ram Thakur. Hon'ble Chief Minister, Himachal Pradesh, launched the free text based online search of all Gazettes of the State, since its inception in the year 1953. Sh. Vineet Chawdhry, Chief Secretary, Sh. B.K. Aggarwal, Additional Chief Secretary Home, Dr. Shrikant Baldi, ACS to HCM, Dr. R.N. Batta, Secretary Secretariat Administration, all Administrative Secretaries and HoDs were present on the occasion.  Hon'ble Chief Minister opined that with the availability of all Gazettes of the State in Digital format, the citizens, departments, lawyers and courts will benefit the most. They may search any Gazette of the State online. 
The HP Seceratriat has taken the initiative of scanning all old Gazettes of the State through a NICSI empanelled vendor. After scanning, NIC HP has developed a web-based interface to index the content after doing OCR through the software. Therefore, all Gazettes have been made available on the Internet and can be searched based on free text, with high accuracy. The reason for less accuracy is that the Gazettes of previous years are on paper, printed almost 65 years back on basic printing presses.
The Raj Patra Himachal Pradesh is published in digital form only since 1-August-2007 and HP was the first State in country to implement it, by adding digital signatures. All Departments submit notifications in online mode only, which are compiled and published daily in the State Gazette. The software is supported with eGazette mobile App on Apple and Android platforms. 
This software model has been adopted in many States and presently, Chandigarh is going to replicate the software, along with the Chandigarh eGazette mobile app (available on both Apple and Android platforms).  The software has been developed by NIC Himachal Pradesh and Mobile app Development Competence Centre. Sh. Ajay Singh Chahal, SIO NIC HP, Sh. Sanjay Sharma, TD and Project Head, Sh. Sandeep Sood, TD, Sh. Sarvjeet Kumar, Scientist-B, Smt. Vandana Dhiman, Scientist-B were present from NIC.