G2C
Showing 306 to 310 of total 315 records
In an exclusive interview session with Informatics, Sh. Chandra Prakash, IAS Principal Secretary, IT & Electronics, GoUP talks about how the implementation of e-Governance initiatives is fast changing the image of Uttar Pradesh from an IT laggard state to an IT happening state.
V S Raghunathan
|
April 2009
Data Loss Prevention is one of the most hyped, and least understood, tools in the security space. In spite of the availability of many technologies, it can be difficult to understand the ultimate value of the tools and products best suited to the given problem. This report will provide the necessary...
Adyapada Tripathy
|
April 2009
Adorned by hills and plateaus, spreading natural splendor with sparkling rivers amidst dense forests, harboring variety of flora and fauna, West Singhbhum, situated in the southern part of Jharkhand state. The largest district of the state, came into being in 1990, when the erstwhile Singhbhum district...
Mr. M.K.Mishra, Mr. Y.V.Shreenivas Rao
|
April 2009
Thirty-six Forts once existed in the region are the basis of the name Chhattisgarh signifying it as The land of thirty six forts. It is also nick-named the rice bowl of India due to abundance and variety of rice produced here. The state is also blessed with wide range of natural resources like dense...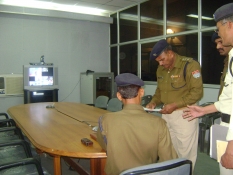 Dr. J.J.S. Bisht
|
April 2009
Pithoragarh, the picturesque district of Kumaon region in Uttarakhand, with a breathtaking panoramic view of Himalayas, summons tourists worldwide to its alluring grandeur of natural beauty. Sharing borders with China (Tibet) on northern side and Nepal on the east, the district has a population of about...