Elections
Showing 11 to 15 of total 35 records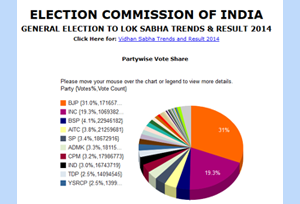 Chander Shekhar, NIC-HQ
cjairath[at]nic[dot]in
|
May 22, 2014
Since Independence, free and fair elections to the largest democracy of the world – INDIA, are being held at regular intervals as per the principles of the Constitution, Electoral Laws and System. Section 14 of the Representation of the People Act, 1951 provides for conduct of the elections...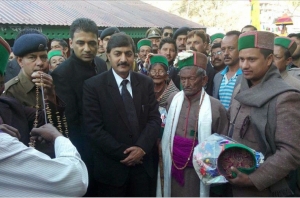 Ajay Singh Chahal, Himachal Pradesh
ajay[dot]chahal[at]nic[dot]in
|
May 10, 2014
The poll process has been web-cast live from 178 polling booths in Himachal Pradesh covering all 4 Parliamentary Constituencies from all 12 Districts, on 7th May 2014. The NIC District Unit officers in the State were actively involved in providing the live web-cast solution in their respective Districts....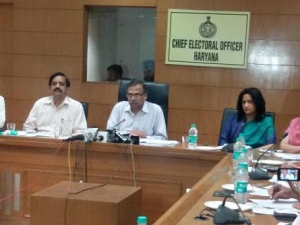 Poonam Gupta, Haryana
poonam[dot]g[at]nic[dot]in
|
Apr 9, 2014
The e-Dashboard is a web based software developed at NIC-Hisar District unit of NIC Haryana in coordination with the O/o Chief Electoral Officer, Haryana and NIC State Project Coordinators for Elections. The e-Dashboard software is an SMS based tool for the poll monitoring & it automatically...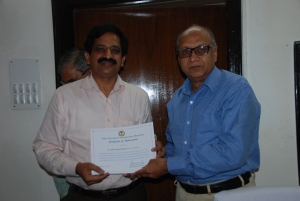 Poonam Gupta, Haryana
poonam[dot]g[at]nic[dot]in
|
Aug 19, 2013
A half day Conference of all DIOs of NIC-Haryana, Dy. Commissioners of 07 districts of Haryana, where General Elections to Municipal Corporations of Haryana were held on 2nd June 2013, was organized by the Haryana State Election Commission on 12th August at Chandigarh, to deliberate on the extensive...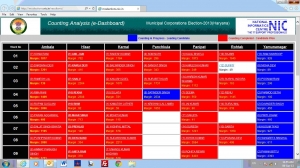 Poonam Gupta, Haryana
poonam[dot]g[at]nic[dot]in
|
Jun 17, 2013
NIC-Haryana team developed a web based application for the Municpal Corporations Election-2013 held in seven numbers of Municpal Corporations of Haryana in the month of June'2013. Web based application was developed by the NIC-District Unit, Hisar and hosted at NIC-Haryana State Center under...