CSI SIG eGovernance Awards to NIC Rajasthan
Amit Agarwal, Rajasthan
amit[dot]agarwal[at]nic[dot]in
|
Mar 29, 2023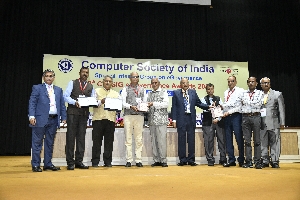 CSI (Computer Society of India), Special Interest Group (SIG) has awarded some of the best e-Governance projects and initiatives of country in the award ceremony organised at Delhi Technical University, New Delhi on 25th March' 2023. This year, Rajasthan Agriculture Statistics (RajAS) portal from Rajasthan has been awarded the 20th CSI e-governance award in the project category.
Rajasthan Agriculture Statistics (RajAS) portal developed by NIC for Statistics Department, Rajasthan is an integrated system to capture various agriculture related data online from the State, District and Tehsil offices. Major Statistics like Timely Reporting Scheme (TRS), Jinswar, Rainfall, Farm Harvest Prices, Agriculture Wages and Improvement of Crop Statistics (ICS) are being generated online through  the system. Statistics Department, Board of Revenue, District Collector (LR) and Tehsil offices are using portal as a tool to generate district and state level statistics in a time bound manner. The system allows the department to keep an eye on agriculture productions and yields in the state.
The system is also being used by citizens to get Rainfall Statistics, Crop Estimates, Agriculture Bulletins and agriculture publications online.