Conference
Showing 81 to 85 of total 105 records

Mohan Das Viswam
|
April 2020
Held on 20th & 21st January 2020, the yearly techno-event of NIC was power packed with inspiring talks and deliberations by eminent IT experts and techno-leaders from industry.
RAMA HARIHARAN, HEAD(CEDA)
|
October 2018
CEDA has been setup to support Government departments to unlock the hidden potential of the data that they are generating as part of governance processes and use it to improve overall governance.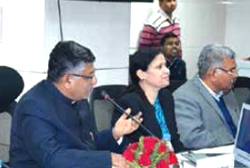 Artificial Intelligence (AI) is poised to revolutionize the functioning of governments. Globally, its applications are growing based on its demand and potential to improve efficiency and quality of public services. These largely depend on how best the choices are made on how and where it can be applied.
RACHNA SRIVASTAVA & SEEMA KHANNA
|
April 2018
Hon'ble Prime Minister of India, Shri Narendra Modi at 18th SAARC, has envisioned making the region more connected and prosperous. His vision for the region rests on the primary pillars of trade, investment, assistance, cooperation, people-to-people contacts and seamless connectivity.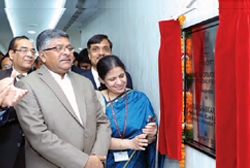 NAGENDRA KUMAR
|
January 2018
Hon'ble Minister, during his inaugural speech said that as part of the Digital India programme, the Government has introduced many of the services online. Although this has made services very much accessible to the citizens, it has also exposed them to the threats and vulnerabilities which...