Launch
Showing 21 to 25 of total 241 records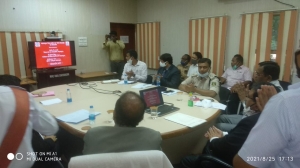 Y. V. Shreenivas Rao, Chattisgarh
yvsrao[at]nic[dot]in
|
Aug 27, 2021
With the intent of bringing the police closer to the citizen and to have more cooperation and support from the citizen for better policing in the district, district police have approached NIC for preparing an informative district police website. A suitable website has thus been developed...

Deepak Sawant, Haryana
sawant[dot]deepak[at]nic[dot]in
|
Aug 5, 2021
Hon'ble Chief Minister Haryana, Shri Manohar Lal launched the Awas Portal (http://awas.haryanapwd.gov.in) on 02 August 2021 to make the process of allotment of government accommodation to the employees more transparent. The Awas portal has been designed and developed by NIC-Haryana....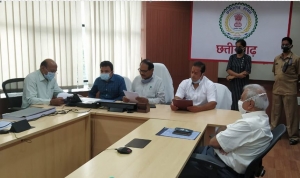 Y. V. Shreenivas Rao, Chattisgarh
yvsrao[at]nic[dot]in
|
Jul 31, 2021
Hon'ble Education Minister Dr. Premsai Singh Tekam, Govt. of Chhattisgarh clicked and publish the 12th Board examination results on 25th July 2021, in the presence of other dignitaries. The technical support was provided by NIC. Within 5 hours the server has ...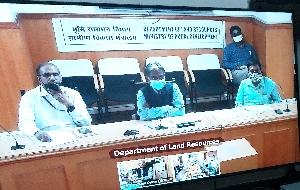 Y. V. Shreenivas Rao, Chattisgarh
yvsrao[at]nic[dot]in
|
Jun 26, 2021
On 23rd June 2021, Ms. Reeta Shandilya, Secretary, Revenue & Disaster Management, Govt. of Chhattisgarh launched the ULPIN (Unique Land Parcel Identification Number) utility for Chhattisgarh in the virtual presence of Shri Ajay Tirkey, Secretary, DoLR, Govt. of India, Shri Hukum Singh Meena, Addl....
Y. V. Shreenivas Rao, Chattisgarh
yvsrao[at]nic[dot]in
|
Jun 8, 2021
The Chhattisgarh Transport Department is going to deliver the Smart Card based Driving License (DL)and Registration Certificate (RC) to the citizens of Chhattisgarh at the address registered by them on the Transport portal. On 1st June 2021 Hon'ble Chief Minister of Chhattisarh, ...