News
Showing 11 to 15 of 1043 records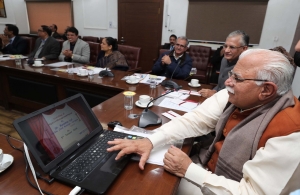 Deepak Sawant, Haryana
sawant[dot]deepak[at]nic[dot]in
|
Jan 8, 2019
At the launch event of Litigation Management System (LMS) on 5th Jan 2019, Hon'ble Chief Minister Sh. Manohar Lal Khattar was present along with Advocate General Haryana Sh. Baldev Raj Mahajan, Chief Secretary, Haryana Sh. D.S.Dhesi and some other senior Officials....
Deepak Sawant, Haryana
sawant[dot]deepak[at]nic[dot]in
|
Dec 28, 2018
On good governance day i.e. 25th December 2018, Hon'ble Chief Minister Haryana Sh. Manohar Lal inaugurated series of events at Mini Secretariat Karnal for 'Antyodaya Saral' project, in the presence of Principal Secretary E&IT, Principal Secretary Social Justice & Empowerment...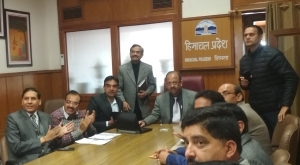 Sandeep Sood, Himachal Pradesh
sood[dot]sandeep[at]nic[dot]in
|
Dec 27, 2018
Sh. B.K. Agarwal, Chief Secretary, Himachal Pradesh launched the Traffic Management mobile App on 22nd December 2018 at Shimla. Sh. Manoj Kumar, ACS Home, Health, Sh. R.D. Dhiman, ACS Forest, Personnel, Sh. Probodh Saxena, Principal Secretary, Power, UD, TCP, Sh. Onkar Chand Sharma, Principal Secretary,...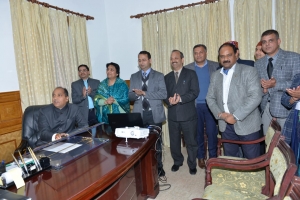 Ajay Singh Chahal, Himachal Pradesh
ajay[dot]chahal[at]nic[dot]in
|
Dec 18, 2018
Sh. Jai Ram Thakur, Hon'ble Chief Minister, Himachal Pradesh launched the redesigned website of HP State Disaster Management Authority on 15th December 2018 at Dharamshala, District Kangra. Sh. B.K. Aggarwal, Chief Secretary, Smt. Manisha Nanda, Additional Chief Secretary Revenue, Sh. D.C. Rana,...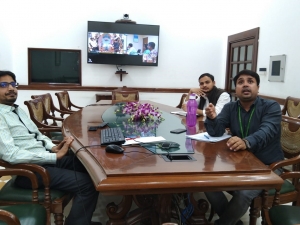 Dr. Shubhag Chand, Delhi
shubhag[at]nic[dot]in
|
Dec 17, 2018
eSamikSha web portal developed and managed by Cabinet Secretariat Informatics Division and adopted by various Ministries/Departments/States/Districts/PSU etc. for their issue resolution and compliance on 20th November 2018 in the Training programme organized by Ordnance Factories Institute of Learning...