Meeting
Showing 41 to 42 of total 42 records
RACHNA SRIVASTAVA & SEEMA KHANNA
|
April 2018
Hon'ble Prime Minister of India, Shri Narendra Modi at 18th SAARC, has envisioned making the region more connected and prosperous. His vision for the region rests on the primary pillars of trade, investment, assistance, cooperation, people-to-people contacts and seamless connectivity.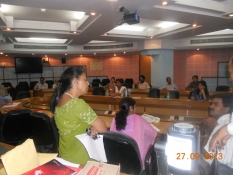 Dr. Vandana Sharma, Ms. Mridula Jain
|
January 2014
Hindi Pakhwada was observed at NIC Headquarters from 14th September 2013 to 28th September 2013. Hindi Pakhwada was also observed at NIC State Units. During the event, seven different competitions were organized in Hindi. Alike previous years, this year too, Hindi typing, dictation, essay-writing,...