e-Services
Showing 186 to 190 of total 224 records
SH. A.N. MISHRA, SH. MRITUNJAYA SINGH
|
April 2012
e-Awas, a government Accommodation Management System by Directorate of Estates under Ministry of Urban Development, Government of India, provides an automated solution to allotment and maintenance of records like acceptances and rejections, rent bills, license fee, vacations etc. of about 89,768 units...
SCD GUPTA & PC MALLIK
|
July 2011
The Indian Audit and Accounts Department (IA&AD), 150 years old, with strength of more than 45000 employees in about 211 field offices located all over India and abroad is headed by the Comptroller and Auditor General of India (CAG) Office as the Head of Supreme Audit Institution of India....
SAHID AHMED, PRASHANT BELWARIAR
|
April 2011
Renewing its effort towards utilizing ICT for the benefit of citizens, the government of Jharkhand had earned admiration from all sections of the society, for its determination to bring efficiency, transparency & accountability in day to day governance. The launch of various e-services...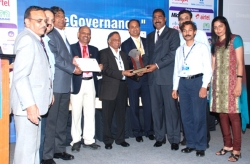 ARCHANA P. NAGVEKAR
|
April 2011
The coastal state of Goa known for its swaying palms, sunny beaches and progressive life style has not been far behind in the field of information technology. Having bagged the prestigious CSINIHILENT: Most Progressive e-Governed State Award in 2006-07 the last few years have seen Goa leapfrog...
MAHESH CHANDRA, S. K. SINHA
|
April 2011
Computer chip-embedded plastic cards that store and transact data, Smart cards, a new form of fast and effective transaction has been instrumental in providing better egovernance in India. Smart cards usually have multipurpose lives, from being National ID cards to tools for driving licenses...