Secretary (Information and Broadcasting), Government of India visits NIC Shimla and Interacts with District NIC Officers through Video Conferencing
Ajay Singh Chahal, Himachal Pradesh
ajay[dot]chahal[at]nic[dot]in
|
May 20, 2016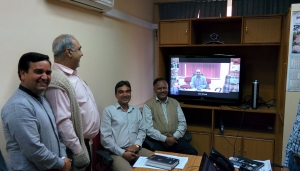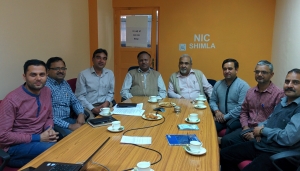 Sh. Ajay Mittal, IAS, the Secretary (Information & Broadcasting) Government of India visited NIC Himachal Pradesh State Centre at Shimla on 7th May 2016 and interacted with the NIC officers. The District NIC officials also joined the meeting over Video Conference. Sh. Ajay Mittal reviewed the projects done by NIC Himachal Pradesh, especially in the Transport sector as he was Additional Chief Secretary (Transport) to the Government of Himachal Pradesh before his current posting. He was informed by the SIO, HP about the implementation of the Sarathi 4.0 software in 70 RLA/RTO out of 74 RTO/RLA offices of the State ahead of other States.
He was informed that the Issuance of Learner Licence, Driving License and services/endorsements on existing Driving Licence has been started in all the RLA/RTOs of HP and HP is the first state where its implementation has been taken in 95% of RTO/RLAs. The Himachal Pradesh is the Pilot state in Testing and Customization of this software. He has advised to start the Conductor License through this software.
He appreciated the efforts of NIC Himachal Pradesh team and advised them to develop/ provide such services to citizens so that they do not have to visit Government offices. He said that the new solution will definitely help the citizens in getting the Citizen Centric Services. The implementation of Web Based LL & DL will definitely move the State of Himachal Pradesh towards a true Digital State.
Presently, many IT services are being rendered to Transport Department in Himachal Pradesh by NIC viz. Online Token Tax, Online SRT, Fitness Testing Stations etc. He appreciated for the Authorised Fitness testing Station software linked with Vahan State Register in the H.P. Road Transport Corporations for the fitness of Commercial vehicles and automatic updation of vehicle fitness in respective RTO/RLAs.
He also appreciated the efforts being made in testing and customization of Web Based Vahan4.0 and linking Vahan4.0 with the dealers and payment integration with Himachal Cyber Treasury.
He appreciated for the sincere efforts put in by the NIC Teams at National and State levels, especially Sh. Sanjay Singh Gahlout, DDG with his development & support team and the SIO NIC Himachal Pradesh with his State team, especially Sh. Bhupinder Pathak, Project Coordinator, HP for rolling out this project.