CSI SIG eGovernance Awards to NIC Rajasthan
Amit Agarwal, Rajasthan
amit[dot]agarwal[at]nic[dot]in
|
Jan 28, 2020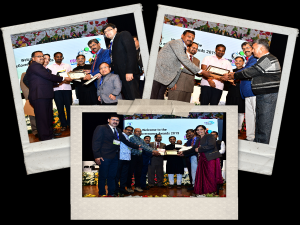 CSI (Computer Society of India), Special Interest Group (SIG) has awarded some of the best e-Governance projects and initiatives of India in the award ceremony organised at KIIT University, Bhubaneshwar, Odisha on 17th Jaunary' 2020.
Three ICT projects developed and implemented by NIC Rajasthan has been conferred CSI SIG eGovernance Award 2019 in various categories.
PCTS Mobile App : Award of Excellence
Integrated Shaladarpan : Award of Appreciation
Rajasthan Business Register 'BR' : Award of Recognition
PCTS (Pregnancy and Child Tracking System) Mobile App is developed for Medical Department, Rajasthan and is used upto subcentre level by ANMs for reporting real time data pertaining to health services provided by them to the citizens at village level. The App is being used by more than 17,000 ANMs posted at 16700+ government health institutions spread across the state. Data is captured directly from health sub centres/PHC through mobile app. Record of every child is linked to his/her mother and siblings. Work plans for ANMs are also sent through Mobile App.
Integrated Shaladarpan portal is developed for Education Department, Rajasthan and is the complete solution for various activities of state education department.  It has online record of 65000+ schools, 82+ lac Students and 4.15+ lac staff including teachers of the state. Information such as School Enrolment, Student Results, Teachers details and sanctioned posts is maintained on the portal. Rationalization of teachers, Online School allotment for B.Ed./BSTC Internship, School Studying Certificate from ShaalaDarpan to SJE for Paalanhar are some of the services offered by the portal.
Rajasthan Business Register portal is developed for Statistics Department, Rajasthan and is used to register all Business enterprises and NGOs in the state. The system has completely online workflow and citizens may apply through their Aadhaar No.  Business Register is a useful indicator of the spread of various business/ industries in the state which records all enterprise groups, enterprises, NGOs, Voluntary Organisations and local units that are active in the national economy. The system provides various statistics to Government for planning purpose.