Agriculture
Showing 56 to 59 of total 59 records
M. Vinayak Rao, Sanjay Hardikar
|
October 2009
Madhya Pradesh, the second largest State of India having 50 districts & 313 Blocks, is home to a rich cultural heritage and has practically everything; innumerable monuments, large plateau, spectacular mountain ranges, meandering rivers and miles and miles of dense forests offering a unique and exciting...
Vinod Kumar
|
October 2009
Hamirpur district, the Veer Bhoomi is one of the twelve districts of Himachal Pradesh. The tract is hilly covered by Shivalik range. The elevation varies from 400 meters to 1100 meters. The district is well connected by roads from all sides. Hamirpur is the most Literate district in Himachal Pradesh....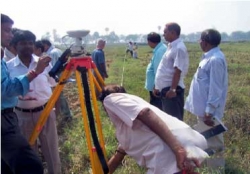 Vinay Thakur
|
April 2009
1. In an exclusive Interview to Informatics, Smt. Rita Sinha, IAS Secretary, Department of Land Resources, Ministry of Rural Development, Government of India, expressed her views on how National Land Records Modernization Programme (NLRMP) will be instrumental in implementing the conclusive land-titling...
Moiz Hussain Ali
|
January 2009
Jalna district erstwhile a part of Aurangabad district was formed on 1st May 1981 by carving out Jalna, Bhokardan, Jafrabad, Ambad tahsils of Aurangabad district and Partur tahsil of Parbhani district.This commercial city of Marathwada well-known for its Hybrid Seed industries, Steel rerolling mills,...