Health
Showing 51 to 52 of total 52 records
INDU GUPTA, CHANDAN SEN
|
October 2010
NIC Rajasthan has developed and implemented the Pregnancy, Child Tracking & Health Services Management System (PCTS) for Medical, Health & Family Welfare Department, Govt. of Rajasthan, for improving its services right up to the grass root level (Health Sub centre). It is online...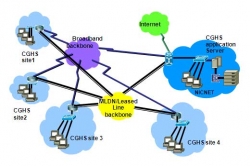 Vishwajeet Ringe, Sanjay Kr Gupta, Pawan Kr. Yadav
|
July 2009
Central Government Health Scheme provides comprehensive health care to the families of Central Govt. Employees , Pensioners , MPs & Ex. MPs, Judges of Supreme Court of India and High Court of Delhi , etc., in 25 Cities including Delhi/NCR through 248 Allopathy Wellness Centres and polyclinics ,...