Workshops
Showing 11 to 15 of total 212 records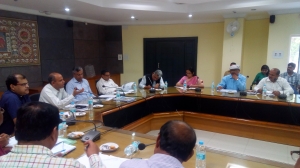 A. K. Hota, Odisha
ak[dot]hota[at]nic[dot]in
|
May 15, 2018
Department of Agriculture and Farmers' Empowerment, Govt. of Odisha organized a workshop on development of Enterprise Architecture in Agriculture sector on 5th May, 2018. Senior officials from Agriculture & Farmer's Empowerment department and its associated organisations along with...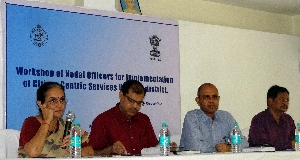 A. K. Hota, Odisha
ak[dot]hota[at]nic[dot]in
|
Apr 20, 2018
Department of Electronics & Information Technology (E&IT), Government of Odisha organised one day State Level workshop on eDistrict project implementation using ServicePlus framework on 6th April, 2018. The nodal officials from all the departments of Govt. of Odisha have attended it. ...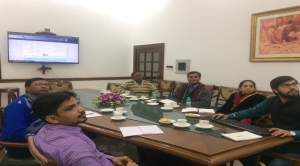 Dr. Shubhag Chand, Delhi
shubhag[at]nic[dot]in
|
Jan 2, 2018
eSamikSha, an online Monitoring and Compliance Mechanism has been developed by Cabinet Secretariat Informatics Division, to fast track the compliance of pending action points, proposal, targets, etc. of Various Ministry/Department/Organization/Agency of Govt. of India and Government of States...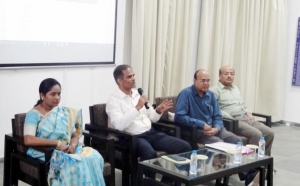 A. K. Hota, Odisha
ak[dot]hota[at]nic[dot]in
|
Nov 8, 2017
A half day workshop on Open Government Data was organized for officers and staff of Social Security and Empowerment of Persons with Disabilities Department at the National Institute of Social Work and Social Sciences (NISWASS) on 31st October 2017. The workshop was inaugurated by Shri Niten Chandra,...
A. K. Hota, Odisha
ak[dot]hota[at]nic[dot]in
|
Oct 30, 2017
Open Government Data (OGD) Platform India of National Informatics Centre (NIC) in association with Internet & Mobile Association of India (IAMAI) & StartUp India organized a 24 hours Hackathon - "#OpenGovDataHack" at Kalinga Institute of Industrial Technology (KIIT) Technology...