State Level Workshop on eOffice 7.0 at Bhubaneswar, Odisha
Shri Hara Prasad Das, Odisha
hp[dot]das[at]nic[dot]in
|
Sep 26, 2023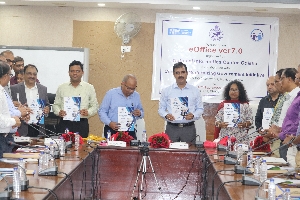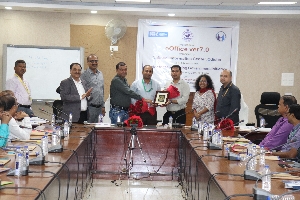 The State Level Workshop on eOffice 7.0 was successfully conducted on 16th September, 2023, at State Institute for Rural Development and Panchayati Raj (SIRD & PR) Conference Hall in Bhubaneswar, Odisha. The workshop was organized by NIC in collaboration with the Centre for Modernising Government Initiative (CMGI), Govt. of Odisha. The main objective of the workshop was to facilitate interactions among  stakeholders, showcase new initiatives under the eOffice Project, enhance awareness and adoption of new offerings and gather suggestions and feedback from end users through focused discussions and brainstorming.

More than 150 officers from different departments of the Government of Odisha participated in the workshop in person and  officers from the 30 districts of the state joined through video conferencing.
Shri R. S. Gopalan, IAS, Commissioner-cum-Secretary, Department of Labour & ESI, Government of Odisha, Chief Guest in the workshop commended the efforts of NIC in developing the robust and powerful automation software that has brought transparency to official work. Shri Gopalan stressed on the importance of utilizing the eOffice application suite across all departments and districts in the state.
Smt. Rachna Srivastava, Deputy Director General (DDG) and HoG (eOffice), NIC, New Delhi, along with Shri Kapil Kumar Sharma, Senior Director (IT), gave a detailed presentation of the latest version, Version 7.0, of the eOffice application.

Participants engaged in constructive discussions with the HoG(eOffice) and her team to clarify doubts and confusions. The workshop provided an opportunity for districts, state departments, directorates, PSUs, and universities to share their issues and experiences at the ground level.
The eOffice brochure containing features of eOffice 7.0, Components of eOffice, eOffice implementation status etc. was released on this occasion.
During the event, Jagatsinghpur District was felicitated for its exemplary accomplishment in successfully implementing the e-office system up to the Gram Panchayat level.