Workshops
Showing 6 to 10 of total 228 records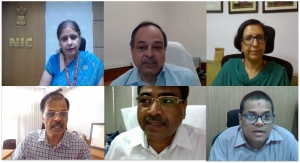 Arvind Dadhichi, Uttaranchal
ak[dot]dadhichi[at]nic[dot]in
|
Jul 23, 2021
The occasion was the valedictory session of a Training of Trainers (ToT) - cum - workshop on "Data Analytics and Data Visualisation" organised by NIC Training Unit (NICTU) at the Lal Bahadur Shastri National Academy of Administration, Mussoorie from 7th-14th, July 2021. The ToT participants...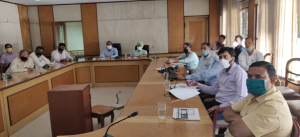 Deepak Sawant, Haryana
sawant[dot]deepak[at]nic[dot]in
|
Jun 12, 2020
NIC Haryana and Development & Panchayats Department, Government of Haryana jointly organised a Workshop-cum-Training session on AuditOnline System on June 10, 2020 at Haryana Panchayat Bhawan, Chandigarh. Around 25 participants from Local Audit Department and Panchayat Department attended the...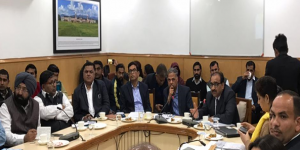 Deepak Sawant, Haryana
sawant[dot]deepak[at]nic[dot]in
|
Mar 9, 2020
One-day workshop on e-Green Watch was organized on 27.02.2020 at Van Bhawan, Haryana Forest Department Hq., Panchkula. The workshop was attended by Dr. Amrinder Kaur, HOFC, Sh. Deepak Kumar Sinha, Secretary Forest, Sh. Vineet Kumar Garg, PCCF, CAMPA and Conservators of Forests of various circles,...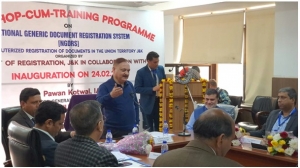 Jit Raj, Jammu and Kashmir
jit[dot]raj[at]nic[dot]in
|
Feb 28, 2020
A 3-days training cum workshop on NGDRS (National Generic Document Registration System) was conducted at Jammu, J&K from 24th to 26th of February, 2020. The event was inaugurated by the Inspector General of Registration Dr. Pawan Kotwal, IAS in presence of the Divisional Commissioner Sh. Sanjeev...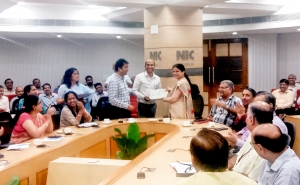 Informatics News Desk, NIC-HQ
newsdesk[dot]info[at]nic[dot]in
|
Oct 3, 2019
Dr. Neeta Verma, Director General, NIC, addressed NICians on the occasion of the successful completion of two years of Webinar Series at NIC HQ, New Delhi on 3rd October 2019. Launched by NIC on 3rd October 2017, the webinar sessions aimed at creating a platform for sharing knowledge among the peer...