Three Days Training Programme cum Workshop for District Informatics Officers of NIC Punjab
Parminder Kaur, Punjab
parminder[dot]kaur[at]nic[dot]in
|
Nov 2, 2023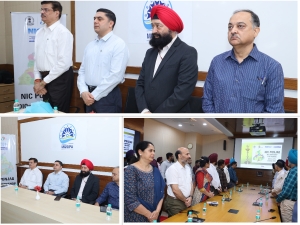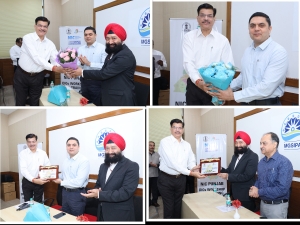 In a significant stride towards professional development and knowledge enhancement, NIC Punjab successfully organized a three-day Training Programme-cum-Workshop. This transformative event took place at the esteemed MGSIPA (Mahatma Gandhi State Institute of Public Administration) in Chandigarh, commencing on the 25th of October 2023 and concluding on the 27th of October 2023. The workshop, presided over by Sh. Vivek Verma, the distinguished SIO Punjab, was a platform for learning, collaboration, and growth.
Day 1 (25th Oct, 2023)
The inaugural session on the 25th of October, 2023, was graced by the esteemed presence of the Guest of Honour Sh. Inder Pal Singh Sethi, Deputy Director General (DDG) & State Coordinator of NIC Punjab.
The workshop was graced by the Chief Guest Sh. Tejveer Singh, the Chief Guest of the event and the Principal Secretary, Department of Governance Reforms Punjab. His participation added a State Government perspective to the workshop, emphasizing the vision and commitment of the government in fostering ICT system, professional growth and expertise in the state.
The Chief Guest and the Guest of Honour were received by Sh. Vivek Verma, SIO and Sh. Vikram Jeet Grover, ASIO (State) and were presented with bouquet of flowers.
In the beginning of the workshop State Training Coordinator, Sh. Sanjay Sawhney, Director(IT) & Scientist-E welcomed all the participants to this educational endeavourand informed the benefits of this workshop. The ceremonial inauguration of the workshop was graced by the e-lighting of a lamp, a symbol of knowledge and enlightenment. It was accompanied by a soul-soothing recitation of Ganesh Prayer by Sh. Sanjay Sawhney, State Training Coordinator, further invoking blessings for the success of the workshop.
With the guidance of Sh. Vivek Verma, the support of Sh. IPS Sethi, and the patronage of Sh. Tejveer Singh, this event is poised to make a lasting impact on the informatics landscape of Punjab and beyond. This training initiative aims to enhance the skills and knowledge of the DIOs, equipping them with the latest tools, techniques, and best practices to further empower their respective districts in this digital age.
Sh. Vivek Verma, SIO & DDG, NIC Punjab welcomed the Chief Guest and the State Coordinator, NIC Punjab. In his welcome address, he highlighted the importance of this workshop and how it will be helpful for DIOs in providing the ICT services to District Administration. SIO Punjab thanked Sh. Tejveer Singh, PS DGR for his guidance and support in carry out ICT services in the state. He also thanked the DIOs for continuous IT support and their advisory role for making the things easier for district administration. Further he added that through this workshop, we aim to equip DIOs with the knowledge and tools necessary to serve their districts better, ensuring efficient and technology-driven governance.
In his inaugural address, Sh. Inder Pal Singh Sethi, State Coordinator of Punjab shared his experiences of other states as State Coordinator of Himachal Pradesh, Assam, Meghalaya and Telangana. He appreciated NIC Punjab for its contributions in various projects like e-office, iHRMS, IFMS, Service Plus and many more. While sharing his experience of Manav Sampada, he told how NIC Punjab customized it for its roll out in Punjab. He shared his vision of NextGen digital Punjab, where online services are being rolled out to ensure the utmost satisfaction of our citizens. He highlighted upon the importance of "Cashless, Faceless" service delivery approach, in alignment with the citizen's needs where citizen has minimum interaction with any office physically. He also emphasized the significance of "Know Your Entitlement" (KYE) as a guiding principle for our endeavours.
He advised to make teams including officers of state and districts for important projects to leverage the capabilities of all officers in order to provide effective ICT services. He also advised that all the projects and services should not run in silos, there should be proper communication between them. He expressed his trust that Punjab will move further way forward under the guidance of Principal Secretary, Department of Governance Reforms Punjab. State Coordinator flagged concern for availability of DR for every major project.
Sh. Tejveer Singh, while delivering key note address, applauded NIC Punjab for organizing such an informative workshop dedicated to e-governance service delivery. He recognized the importance of such workshops in facilitating learning and knowledge sharing among peers. He emphasized the need for continuous learning, drawing parallels with the evolution of technology in different spheres.
He also highlighted the significance of collaborative platforms for sharing and interaction and underscored the importance of establishing permanent setups within organizations. While acknowledging the need for outsourced manpower due to evolving technologies, he lauded NIC's close collaboration with the state government and its commitment to addressing e-governance challenges. He encouraged the exchange of ideas from other states and praised the successful implementation of many important projects by NIC in the state.
The inaugural function was followed by presentations from Division-I, Division-VII, and IVFRT were delivered, highlighting important flagship projects being managed by them.
Sh. Dharmesh Kumar, HoD Division-I, underscored the benefits of teamwork in achieving division objectives in a defined time frame. He conveyed that Punjab has developed unique features not available in Neva and shared information about the adoption of a micro-services-based architecture for the MGMN portal.
Ms. Usha Rai, HoD Division-VII, stated about the challenges faced during migrations to NG eOffice and highlighted the development of more than 40 services using ServicePlus. She noted the development of an SMS dashboard for the latest status in eOffice and the implementation of face recognition biometrics in coordination with NIC West Bengal and NIC Delhi AI teams.
Sh. Raj Kumar Tickoo, HoD & IVFRT Coordinator Punjab told status and details about eSanad, Indian Citizenship portal, eProsecution, ALIS-NDAL projects for NIC District Centres.
Sh. Sanjay Sawhney, State Training Coordinator of Punjab presented regarding Need for Documentation of Software Applications and office activities. He also conveyed types of documentation along with usage of Hindi Rajbhasha in documentation.
Sh. Narinder Singh, Senior Director (IT), presented Tejas VI and Sandes Integration in applications, offering detailed insights into these projects.
In order to popularize in-house developed office tool CollabFiles, a session on CollabFiles was given by NIC Hyderabad team including Dr. P.Gayatri, Sr. Director (IT) & Scientist F & HoD Collab Files and Ms. Y. Sreevani, Director (IT) & Scientist-E. They told about the latest features, function and usage of the new version of Collabfiles with live demonstration including importing and exporting of Document / Sheet / Presentation files from other platforms, protection of CollabSheet and cells with password along with its look and feel.
Sh. Vikram Jeet Grover, ASIO (State) emphasized that such Training Programmes –cum- Workshops plays an important role for NIC Officers towards learning and implementing the features of new technologies.
Day 2 (26th Oct, 2023)
On the second day, HoDs and officers of Division-V and Division-VI delivered detailed presentations on the projects handled by them and answered the queries raised by the participants. HoD Division-V briefed about PWRDA web application ePhulkari, FCC regulation, DISE and NextGen DISE. Major projects handled by Division-VI are eAbkari, eProcurement, Scholarship etc.
Ms. Sharmistha Das Gupta, DDG & HoG Artificial Intelligence Resource Division, AI Cloud Services and Virtual Assistance Division, NIC Hq. Delhi specially visited in the Training Programme –cum- Workshop organized by NIC Punjab. She provided valuable insights towards implementation of features of Artificial Intelligence in eGovernance, emphasizing the significance of data readiness and key factors behind AI's growth. She conveyed that AI as a Service(AIAAS) tools like Manthan, Tainaatee, Tippanee, Satyapikaanan, Parichay, VANI, (Virtual Assistance by NIC), Vividh, Prabandhan, the e-governance services are being taken to the next level. She told that all help will be extended for implementation of AI features in various projects of NIC Punjab.
A motivational lecture was given by Sh. Vivek Atray, IAS(Retd.) giving insights to prioritise the things in life so that we give valuable time to ourselves for our inner peace and happiness. He advised don't watch TV, use mobile rather think and meditate before sleeping. We should spend time for ourselves and keep ourselves and be creative. He also advised to read books. So we need to be inspired all the time not to be stressed out and should find spark in our life.
Sh. Pankaj Jain, Director (IT) & Scientist-E demonstrated development of service using ServicePlus and developed a feedback form during demonstration so that participants can provide the feedback for this workshop through the same.
Ms. Rachna Srivastava, DDG and HoG eOffice Project Division, NIC Hq. Delhi gave a session in eOffice. HoG eOffice advised that every DIO should know the full functionality of eOffice to address the queries of District Administration. She highlighted new features of eOffice which every one should know and tell the user department accordingly. e.g. role mappings, delegation of power to subordinates, searchable scope and action scope of efiles, provision of multi sign, availability of integration of third party APIs, e-sign based login authentication and customization of MIS reports. She advised eOffice to be accessible only on intranet due to security concerns.
SIO Punjab thanked Ms. Rachna Srivastava for her support for migration of 6 state instances to NG eOffice and hope for last instance to be migrated soon. She also addressed the queries raised by participants.
Sh. Vikram Jeet Grover, ASIO (State) advised DIOs to learn the development of service using service plus in view to address the fast changing requirements of the users.
The last session of the day was given by Microsoft team on cloud Services, Application Modernization and Security.
Day 3 (27th Oct, 2023)
On the third day, October 27, 2023, Division-II and Division-IV briefed about projects being handled by them and answered the queries raised by the participants. Various major projects handled by Division-II are IFMS, invest Punjab, eAWAS, eDMS, cloud services, core infrastructure services, workflow and analytics-based CMS and few new initiatives like LG-IFMS, implementation of eChallan, CM dashboard, faceless transport services etc… were briefed by Sh. Anoop Kumar Jalali, Scientist F and HoD Division-II. Sh. Navinder Sharma, Scientist-D shared his best practices of project development being adopted highlighting features of Angular and .NET CORE.  Sh Narinder Singh, Scientist-F briefed about Complaint Management System of Vahan & Sarthi and on boarding procedure of Punjab mini cloud. SIO Punjab instructed all DIOs to register on NIC Punjab Mini Cloud for development work.
Sh. Rohit Jaitely, HoD Division-IV shared features and functionalities of iHRMS and its mobile apps. He gave brief introduction about implementation and utilization of HRMS project successfully running in state. Some DIOs gave their suggestions to get details related to election too in HRMS so that those details may be fetched into NextGen DISE. Sh. Vikramjit Singh, Scientist-E gave overview of DSS being used to generated interactive reports in iHRMS.
As DIOs play crucial role in implementing ICT services in districts and all DIOs have too much potential, so DIOs from Zone I and Zone II gave presentation on the exemplary work done by them. Ms. Usha Rai, Scientist F and ASIO Zone II appreciated the good work done by DIOs and advised DIOs to contribute in state level projects and to maintain a district profile showing the technical work being done by them which should be shown to DC from time to time. She also advised that we should have such regular technical sessions in which every one should contribute to keep ourselves technologically updated. She also advised to follow procedures in all administrative work. She told that applications developed by DIOs should be generic so that it can be replicated in other districts and other states too.
DIO Amritsar briefed about the AGILE (Awareness Generation Initiative for Promotion of Learning and Empowerment) - an initiative by district administration in coordination with DARPG.DIO Ropar showed a digital system known as Sakhi for complaint registration and tracking for aggrieved women against violence. SIO Punjab and ASIO (State) desired that applications developed in a state should be generic in nature so that it can be replicated in other districts too. DIO Jalandhar and DIO Kapurthala gave presentation on PTU counselling. After that, Jaldoot application by DIO Mansa, Sujatha App by DIO Faridkot was demonstrated. Prince Goel gave overview of flutter and development of mobile app using flutter.
Various issues related to store and admin were discussed by Sh. Anil Dogra, Scientist F & HoD Stores and Sh. Shailendera Singh, SO Punjab. HoD Stores advised all DIOs to update the stock register on time which is being maintained by them and to maintain the record of auctioned hardware properly avoiding any mismatch. He also told them to generate crack properly and record stock entries. SO advised them to take approval in time for any maintenance to be carried out using imprest. He also advised them to apply tour/Official duty properly, apply for joining in time, take approval of leave before availing, and apply station leave as and when required. SO Punjab appreciated the efforts of HO and IFDO Punjab as no audit para was made this time when audit was carried out. He also told to submit information to office which is mandatory to provide by an employee avoiding in vigilance enquiry.
Sh. Sanjeev Mahajan, Director of UIDAI Services, took the stage to provide an in-depth presentation on Aadhaar. His session included valuable insights into the facts surrounding Aadhaar, its legal provisions, and its practical applications. He shed light on the significance of Aadhaar authentication and delved into various use cases and methods for Aadhaar verification. His expertise on this essential topic illuminated its profound implications in our ever-evolving digital landscape.
In the session on networking, Sh. Mahavir Gupta, System Architect and Tech Lead at CISCO, offered valuable insights to create a more sustainable and secure services using Cloud and Application Modernization. His briefing provided participants with essential knowledge about the networking infrastructure that underpins our modern technological ecosystem.
Sh. Neeraj Goel, Head of Training Division, NIC Hq. Delhi, expressed his appreciation for the unwavering support and endorsement provided by Dr. Rajesh Kumar Pathak, DDG & HoG Training Division and Sh. I.P.S Sethi, State Coordinator of NIC Punjab. He emphasized that without their support, this initiative would not have been possible. Sh. Neeraj Goel further highlighted the importance of role-based training for NIC officers and urged participants not to neglect their training obligations after being nominated by the competent authority, as administrative actions could be taken at any time.
During the closing session, Sh. Neeraj Goel, Head of Training Division, NIC Hq. Delhi, appreciated the efforts put up by NIC Punjab in organizing the one of its own kind of Training Programme –cum- Workshop supported by the Training Division of NIC Hq. In his address, he extended warm congratulations to the SIO Punjab and his team for successfully conducting this comprehensive three-day workshop on behalf of NIC Hq. This event shall serve as an example for other states, showcasing the dedication and commitment of NIC Punjab. He congratulated the team of NIC Punjab lead by SIO for taking this initiative of organizing three days Training Programme –cum- Workshop in Chandigarh.
Valedictory by Sh. Vikram Jeet Grover
To wrap up this exciting training-cum-workshop, Sh. Vikram Jeet Grover, ASIO (State) delivered a heartfelt vote of thanks. He characterized this event as an exhilarating and enlightening experience that aimed to apprise the District Informatics Officers (DIOs) about the priorities of the State Government. It also served as a call to action, encouraging all DIOs and participants to actively contribute to new initiatives undertaken by NIC Punjab.
Sh. Vikram Jeet Grover, in his closing remarks, emphasized the importance of showing one's potential and actively involving oneself in state-level projects. He expressed sincere gratitude towards Dr. Rajesh Kumar Pathak, DDG & HoG Training Division and Sh. Neeraj Goel, Head of Training Division, NIC Hq. Delhi for providing all support in organizing the Training Programme –cum- Workshop. He specially thanked Sh. Neeraj Goel for his continuous guidance and encouragement.
He also expressed deep gratitude to Sh. Vivek Verma, DDG & SIO Punjab, acknowledging that this workshop's success would not have been possible without his unwavering commitment, leadership and support.
This workshop not only imparted knowledge but also fostered a sense of shared responsibility and collaboration among participants. As we conclude these three days of learning and engagement, we look forward to a future where the insights gained here will lead to meaningful contributions to the growth and development of Punjab in the field of IT. We express our gratitude to all who made this workshop a resounding success.
Conclusion:
This three-day Training Programme-cum-Workshop has set the stage for meaningful collaboration, knowledge sharing, and growth within the realm of informatics and e-governance. The rich insights and experiences shared by the distinguished speakers promise to shape the future of ICT services and administration in Punjab. It will undoubtedly leave a lasting impact on all those involved.
The feedback of the three days Training Programme –cum- Workshop has been gathered from all the participants including officers from Punjab State Centre through the module specifically developed using ServicePlus platform.