Inaugurations
Showing 306 to 310 of total 310 records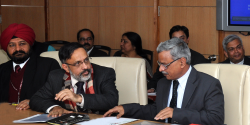 VIJAY KUMAR VISHWAKARMA, ANUPAM JOHRI, HEMANT CHOPRA
|
April 2014
With the emergence of Cloud computing and its power to foster efficiency in Governance, there has been a paradigm shift in the setting up and management of ICT services in Indian Government. Through Cloud services, the provision of ICT infrastructure to various departments and organizations of...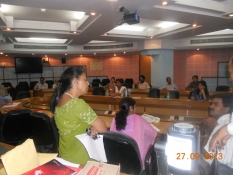 Dr. Vandana Sharma, Ms. Mridula Jain
|
January 2014
Hindi Pakhwada was observed at NIC Headquarters from 14th September 2013 to 28th September 2013. Hindi Pakhwada was also observed at NIC State Units. During the event, seven different competitions were organized in Hindi. Alike previous years, this year too, Hindi typing, dictation, essay-writing,...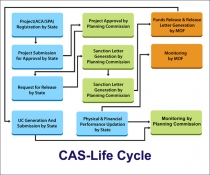 CHANANA A.K., MADHUCHANDA SAMANTARAY
|
October 2013
With altering paradigms of Information and Communication Technology, NIC Cell at Planning Commission is on a constant endeavour to cater to the diverse requirements of various divisions of the Planning Commission of India. The e-Governance movement in country today has witnessed a complete facelift...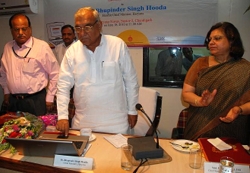 GHAN SHYAM BANSAL, P.ALFRED
|
April 2011
The prime focus of government is timely and effective redressal of public grievances, which leads to citizen satisfaction and credibility of government in Public Delivery systems. With this in mind, the Department of Administrative Reforms & Public Grievances, Government of India in technical...
VINAY THAKUR, VIVEK VERMA, GANESH KHADANGA, D.S. VENKATESH
|
October 2010
In the past Railways has successfully launched exhibition trains like Azaadi Express, Red Ribbon Express and National Science Express for highlighting Indian Independence, AIDS awareness and Science and Technology respectively. With Commonwealth games being hosted in India, Ministry of Railways...