Honorable Health Minister-Haryana, Sh. Anil Vij launched two apps of Haryana Medical Services Corporation Limited on 13/09/2017
Deepak Sawant, Haryana
sawant[dot]deepak[at]nic[dot]in
|
Sep 22, 2017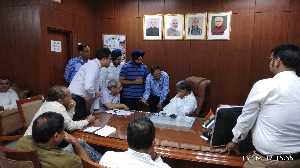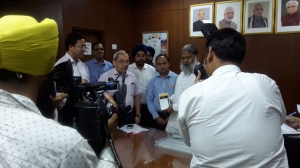 Honorable Health Minister(Haryana), Sh. Anil Vij launching two apps (HMSCL Prabandhan and HMSCL Sangrahan) of Haryana Medical Services Corporation in presence of Principal Secretary (Health), Managing Director-HMSCL, Director General Health Services and other Health officers. Both apps developed by NIC-Haryana team and apps are available on Play Store.
                                                                                  Press Note
The Haryana Health Department is committed to provide all the Essential Medicines free of cost to the patients visiting the state Health Institutes. The Medicine procurement, Quality Testing, Warehousing and distribution are all maintained by an online drug inventory management system. The availability of medicines can be viewed by all the officials of State Health Department online from this portal. It was seen that the District and State Headquarter Health officials get very less time to visit the portal online. Going with the theme of Digital India and Digital Haryana and under the visionary leadership of Honorable Health Minister Sh. Anil Vij, the Haryana Medical Services Corporation Limited with help from NIC Haryana has created two android applications.
HMSCL Prabandhan: this application can be downloaded to the android mobile phones. All the Health Officials from Medical Officer of a Primary Health Center to Hon'ble Health Minister can view the availability of each and every medicine on their mobile phones. This application will show the current stock availability of each and every medicine at the level of Warehouse and at every facility of the State. The purchase pipeline and quality pipe line will also be visible. The Health officials will be able to view all the information even when they are not in their office and the facility will be available 24/7 for all the days. This will enable the better planning and better utilization of available resources. There can be instances of over stocking and non-availability which will now be visible to every Health Official.
This application is a unique endeavor to bring transparency and efficiency in the system. This application is a unique technology driven initiative which will lead to better patient care ultimately and it is in line with the Digital India initiative of Hon'ble Prime Minister. This android based application will hopefully lead to better informed decisions at the level of Headquarter and periphery. The higher officers now need not to be dependent on the Computer Assistants and Pharmacists for getting information about availability of Medicines. 
The application is aimed at improving availability and reducing expiry of medicines in the State.
HMSCL Sangrahan: This application has been created for the help of Warehouse managers. The application will improve the working of warehouses.
      Hon'ble Health Minister inaugurated these two applications on 13/09/2017.