Honounrable Union Minister, MeitY, GoI Visits Shimla and Reviews NIC HP Activities
Ajay Singh Chahal, Himachal Pradesh
ajay[dot]chahal[at]nic[dot]in
|
Sep 22, 2017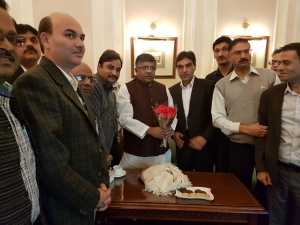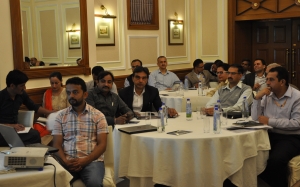 Sh. Ravi Shankar Prasad, Hon'ble Union Minister for Electronics and Information Technology, Government of India visited Shimla, Himachal Pradesh on 18th September 2017. The Hon'ble Minister was received by the SIO NIC HP at the Jubbarhatti, Shimla Airport along with other MeitY officers. He was presented with a guard of Honour by the State Police team on arrival.
The Hon'ble Minister reviewed the activities of all MeitY organizations, namely, NIC, NICSI, NIELET, CSC, STPI and UIDAI during the meeting and interacted with all officers. He enquired about the savings occurring as a result of Aadhaar seeding in Government schemes, number of rations cards weeded out as a result of Aadhaar seeding, work being carried out by STPI, NIELET and CSC status in rural areas. He specifically asked the officials to visit field offices and get a feel of actual conditions.
The State Informatics Officer, NIC Himachal Pradesh, Sh. Ajay Singh Chahal gave a detailed presentation of about 25 minutes on the Digital India related activities, major projects of NIC HP, Mobile Apps, achievements, awards and eServices being provided by NIC HP. The Hon'ble Minister specifically asked about the Government services being presented through the CSCs in the State like Land Records, Certificates and the training provided to the CSC operators.
The Hon'ble Union Minister enquired about the Mid Day Meal Automated Reporting and Management System in details and suggested ways to pro-actively generated alert and exception reports for the reporting officers so that the scheme is properly implemented.
The Hon'ble Union Minister appreciated that NIC HP projects like MDM-ARMS, Manav Sampada and Mobile Apps are being replicated in various other States of the country. He enquired about the functions covered under the new MeitY sanctioned project of Development of a Standard ICT Solution for Public Service Commissions. He suggested that Himachal being a hilly State with difficult topography, NIC should develop solutions using ICT in an innovative manner so that people don't have to travel long distances for Government services.
Technical, logical and administrative support during the visit of the Hon'ble Minister was provided by Sh. Lalit Kapoor, ASIO, Sh. Sandeep Sood, Sh. Sanjay Sharma, Sh. Sanjay Kumar, Sh. Sanjiv Gupta, Sh. Ashish Sharma, Sh. Vinay Dogra, Sh. Hamender Lal, Sh. Satish Kumar and all officers of NIC HP at Shimla. Sh. Shailender Kaushal provided the protocol support during the entire stay of the Hon'ble Union Minister, on round the clock basis.
The necessary guidance during the visit of Hon'ble Minister was provided by Ms. Neeta Verma, Director General, National Informatics Centre. Sh. Manoj Mishra, MD NICSI and Sh. IPS Sethi, State Coordinator helped in the logistics for this visit, which was amply supported and guided by Sh. Sudarshan S. Baluria, Joint Director and OSD to DG, NIC.