Visit of Smt. Neeta Verma, Director General, NIC to NIC Odisha State Centre, Bhubaneswar
A. K. Hota, Odisha
ak[dot]hota[at]nic[dot]in
|
Aug 9, 2017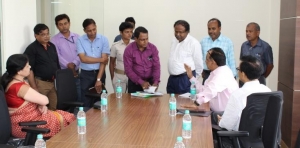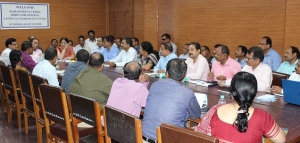 Director General, NIC, Smt. Neeta Verma accompanied by Shri S S Gahlout, DDG & Head (Infra.) visited   NIC Odisha State Centre, Bhubaneswar on 2nd August 2017. Government of Odisha declared Madam as State Guest and accorded befitting hospitality.
DG, NIC was greeted by Shri P. K. Pramanik, DDG & SIO & his Team. She visited the National Data Centre which is underway and reviewed the progress with NBCC and NIC Officials.
At 3.30 pm DG, NIC had meeting with Commissioner-cum-Secretary to Govt., E&IT Department and other senior officers. At the outset Commissioner-cum-Secretary welcomed DG, NIC and briefed on various initiatives being taken up by Government of Odisha. Secretary appreciated the efforts put in by SIO for bringing in a new synergy among NICians and collaborative efforts between NIC and IT Department of the State.
Discussing on NDC, DG, NIC, informed that the basic Infrastructure set up of Tier-III National Data Centre at Bhubaneswar is complete. Electrical Power has been supplied and ICT provisioning is in progress. It would be totally cloud based deployment. She had detailed discussions on strengthening NIC District units with support of State Govt. for smooth execution of various ICT services in the district, Connectivity at District level, Integration of e-Office and OSWAS, CM Dashboard / DM Dashboard, Open Data Initiative etc.
Later DG addressed all employees of NIC, Bhubaneswar. DIOs and ADIOs joined over VC. SIO Shri P. K. Pramanik presented the PPT Handouts covering a detailed presentation on various G2C & G2G services provided by NIC Odisha and the new initiatives undertaken to DG, NIC.
Madam interacted with DIOs/ADIOs and all NICians one by one. Addressing all, DG appreciated the work of    NIC Odisha State Centre. She emphasized on the role of NIC in the ongoing Digital India Programme & suggested   to upgrade the knowledge base through regular trainings, attending technology talks, webinars etc. She wished that all applications should be moved to cloud. She asked to prepare audit analysis reports to access delays in audit compliance. Further, she conveyed that the infrastructure at the state & district level will be strengthened in a phased manner.  
DDG, Shri Gahlout also went around the entire complex of the State Centre and suggested several improvements while appreciating the overall progress in cleanliness, reorganizations in seating arrangements, optimum utilization of resources etc that has taken place in the State Centre building.  DDG Shri Gahlout urged State Centre officials to keep up the good work and assured all help from NIC(HQ) for further improvement.
DDG and SIO, Shri P K Pramanik thanked DG and DDG(Infra) for their visit and the encouragement provided to the officials of the State Centre.