Haryana: News regarding : Training Session for e-Filing on Friday for members of the bar by NIC Haryana High Court Team
Deepak Sawant, Haryana
sawant[dot]deepak[at]nic[dot]in
|
Aug 30, 2016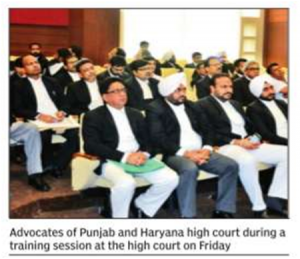 HC body holds training session on e-filing
The Punjab and Haryana High Court Bar Association in collaboration with computer committee of the high court administration has organized a "Training Session for e-Filing" on Friday (26/08/2016) for members of the bar by professional trainers from National Informatics Centre (NIC).
As many as 200 lawyers, including association president Harpreet Singh Brar, secretary Surinder Pal Singh Tinna and other members attended the session. Parmod Goyal, registrar (computerization), was also present.
Tinna said it is a step towards the upcoming professional working amongst lawyer and a step towards to technical, upgrading and modernization. This is a good initiative throughout Punjab and Haryana and it would help advocates and litigants and the judicial system.These steps are a great help and would go a long way towards digitization, he added.
He stressed e-filing, e-diary and e-cases management are few smart systems introduced by the high court for ensuring swift management of cases and such smart system are need of the hour. The e-filing would help in easing the justice delivery system.
Brar has announced to open four e-filing counters on the premises of the association.