NIC Unveils Online Ph.D Admission for Lucknow University, Uttar Pradesh
Anshu Rohatgi, Uttar Pradesh
anshu[dot]rohatgi[at]nic[dot]in
|
Sep 17, 2013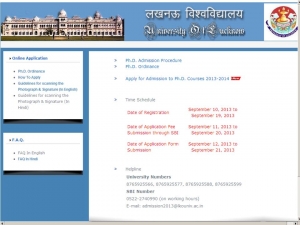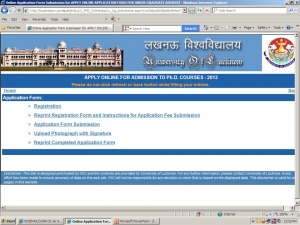 Generally, universities in India are known for their mismanagement and lack of facilities for the students. By showcasing rare instance of progressive management, Lucknow University has been breaking the jinx in partnership with NIC, U.P. State Unit, Lucknow. The objectives with which NIC was requested to provide technical consultancy resulted in advanced module of ICT innovation and inspired Lucknow University to build the absolute infrastructure of facilities for the students.
In its new elongated endeavor, NIC unveiled an online registration system for the students aspiring for doctoral degrees from Lucknow University. NIC was tasked with designing state-of-the-art solutions and web portal that provide an opportunity to the students to submit their application online. End-to-End architecture is devised to automate the preparation of merit list after entrance test. Also, allotment of the seat to Ph.D candidates has been digitized. In the initial phase, the varsity will adopt the procedures for the Junior Research Fellowship students.
In its efforts to create an easy interface, the students were spared from submitting their credentials and testimonials in hard or soft copy. NIC developed exquisitely remarkable feature in which students are required to merely submit the authenticator and unique number of each credential, they wish to submit. Various government departments along with the UP education board were requested to provide an access to their database in order to conduct online verification using these credentials.
The solution has helped the University in controlling the corrupt and unjust practices prevalent in the admission procedure for higher education. From the students' point of view, this system brings ultimate relief as it is error and hassle free, where students need not to throng the university campus, which often turns into a stampede like situation. Extending a support as online counseling, the web based application managed to achieve the objectives laid out by Lucknow University administration.
Notwithstanding the fact that the NIC has previously designed a similar system for the under-graduate and post-graduate courses, the entire exercise of developing Ph.D online admission system has new dimensions and features. The online admission architecture is excellent in accuracy, abundant in database build up, user-friendly for the students and administration, and transparent enough. Web portal (http://luadmission.up.nic.in/phdlu) was developed by NIC to facilitate online admissions for the Lucknow University, which caters to online registration, online fee payment, online receipt issuance online seat allotment and the photo as well as signature upload.