GIGW Workshop at NIC Delhi on 12 August 2013
Lokesh Joshi, Delhi
lokesh[at]nic[dot]in
|
Aug 13, 2013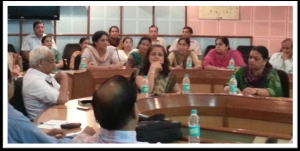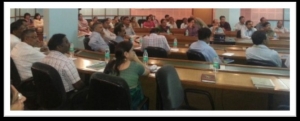 NIC has developed "Guidelines for Indian Government websites" (GIGW) as an initiative under the National Portal of India Project. These guidelines aim at achieving the objective of making the Indian Government websites comply with the essential pre-requisites of UUU Trilogy i.e; Usable, User-Centric and Universally Accessible and follow the best practices over the entire lifecycle of website, web portal and web application right from its conceptualization, design, development and management.
These guidelines have been adopted by Department of Administrative Reforms and Public Grievance (DARPG) and are an integral part of the Central Secretariat Manual of Office Procedure (CSMOP).
To facilitate early compliance, a workshop was organized on Guidelines (GIGW)  at  NIC (convention Hall) on 12th August, 2013 for the Website Nodal Officers of the Ministries/Departments and the concerned NIC officials.
DG, NIC Shri A Mohan, in his inaugural address shared with the gathering how as early as 1994, NIC had begun assisting Government of India organizations with website development and hosting activities. Further, being a pioneer, NIC had ingrained into its blood website development finesse, and the time was now ripe to use all resources available to ensure government websites complied with GIGW guidelines.
Mrs. Neeta Verma, DDG, Data Center & Web Services Division, addressed the audience next, and explained how the trifurcation of responsibilities could help in ensuring early compliance with GIGW guidelines:
Government departments
Developers
Hosting Service Provider
Further, she detailed how Government websites developers could expedite early compliance with GIGW guidelines by adopting frameworks, platforms & open source / proprietary Content Management Systems (CMS) having compliance inbuilt in its features & workflows.
Participants actively engaged in the 4 hour-long workshops to understand how best practices could be followed, templates could be customized, and tools listed on the http://web.guidelines.gov.in/tools.php could be used to test & thereafter expedite and ensure compliance with GIGW guidelines.