GURUKULAM, ANDHRA PRADESH
Lokesh Joshi,
lokesh[at]nic[dot]in
|
Apr 12, 2013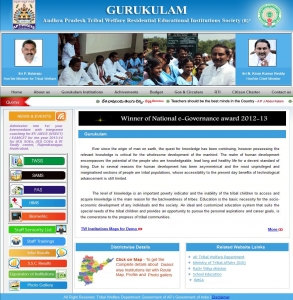 The Andhra Pradesh Tribal Welfare Residential Educational Institutions Society (APTWREIS) popularly called "Gurukulam" was established to manage the enrollment of tribal children in schools and reduce their drop-out rate besides leveraging the quality of education imparted to them. The core vision of the project is to ensure an all-round development of tribal children through quality education so that they can become the real assets of the nation. For its commendable feats in IT enabled services in Gurukulam institutions, the Tribal Welfare Department of Government of Andhra Pradesh has recently received the National Awards for e-Governance 2012-13. The Gurukulam website has been conscientiously designed using a harmonious mix of colours. The website has multi-level navigation. The header of the website features information about the Gurukulam institutions and their location across the state of Andhra Pradesh, their achievements, budget, important government orders and circulars, RTI, citizen charter and contact information. Images focusing the achievements of Gurukulam project are transitioned through a slider on the homepage. The left side of the homepage contains News and Events section. Just below this lies links to Gurukulam's Students Academic Monitoring System (SAMS) along with other important managing software, staff seniority list, Inter and SSC Results etc. The website is compatible with all major browsers and offers high interactivity. The Students Academic Monitoring System (SAMS) contains profiles of students, teachers and parents; students and teachers attendance; progress card and consolidated reports; Management dashboard for complete analysis along with other innovative features.