One Day Symposium on Digital Transformation in Governance
Kavita Barkakoty, Assam
asm-kavita[at]nic[dot]in
|
Sep 1, 2022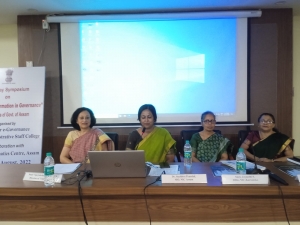 One Day Symposium on
Digital Transformation in Governance
at
Assam Administrative Staff College (AASC)
on 24th August, 2022
24 Aug 2022 : A one-day symposium on "Digital Transformation in Governance " was held at the Assam Administrative Staff College (AASC), Government of Assam on 24th August, 2022. The event was held in collaboration with the Centre of E-Governance, AASC  and National Informatics Centre, Assam. The Symposium was attended by the Officers of  various Departments of  Government of Assam.
Smt. Vijaylakshmi Barua, Director of Training, AASC, welcomed the participants and the faculty experts. During the inaugural session. Dr. Suchitra Pyarelal, Deputy  Director General and State Informatics Officer, NIC Assam, gave a brief overview of the initiatives taken by Government of Assam in  digital transformation in government department in recent times.  She mentioned some of the major projects such as eOffice,  Kritagyata, RTPS etc.  implemented by government of Assam in association with  NIC Assam across the state of Assam.
| | |
| --- | --- |
| Smt. S. Jayanthi, Deputy  Director General & Head of Centre of Excellence for  Block chain, NIC Karnataka, gave an overview of Block chain technology and its use in different government sectors. In her session, she explained about various projects undertaken by Government of Karnataka and other states using certificate chain.  Sri Rubaiyat Ali, Senior Technical Director and Shri Bibhujjal  Bhattacharya, Technical Director, NIC Assam,  gave a brief  overview of  the contactless services implemented in Transport sector of Assam.  Smt. Anuradha Barua, Technical Director NIC Assam, and Shri Rahul Deka, Scientist C , NIC Assam,  discussed about various citizen centric services  implemented in Assam under Right to Public Services (RTPS)  and how these have helped the citizen in getting the important services.  Smt. Kavita Barkakoty, Senior Technical Director, and Shri Manabendra Goswami, Technical Director, NIC Assam, described various  digitization initiatives undertaken by Government of Assam in Finance Sector. |   |
A total of 44  participants took part in the one-day symposium. The symposium concluded with a vote of thanks from Smt. Nandini Sarma, Course Director, AASC.