eFMAS Training conducted in Chhattisgarh
Y. V. Shreenivas Rao, Chattisgarh
yvsrao[at]nic[dot]in
|
Dec 15, 2021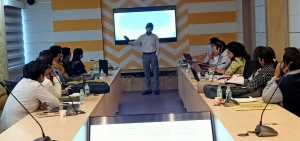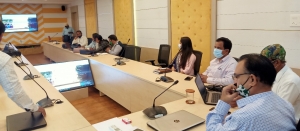 National Rural Livelihoods Mission (NRLM), Ministry of Rural Development, Government of India, in technical coordination with NIC – RD has developed a software module namely Electronic Fund Management cum Accounting Solution (eFMAS), as part of NRLM eGov application (https://nrlm.gov.in), to provide an end to end solution for all Financial and Accounting related activities of its State & District level units i.e. SMMU (State Mission Management Unit) & DMMUs (District Mission Management Units).
The objective of this is to automate all the Receipts, Expenditure and Advances & its settlement (REA) along with integration of all the payments through PFMS. All accounts related statements like Receipts & Payments, Income & Expenditure, Balance sheet, Cashbook, Ledger along with IUFR formats corresponding to a cost centre can automatically be generated through this module.
Benefits also include:
Significant improvement in scheme wise Fund Management.
System controlled allocation of funds across Components and need based authorization of funds.
Quick and accurate (real time) reporting with robust MIS which will provide variant set of reports for Decision Support System.
Better access to data at different levels of the organization for effective monitoring of activities on a day to day basis with daily account status and balances.
Monitoring of progress on programme Vs support activities.
A Training program for the pilot districts of Chhattisgarh was conducted during 29th-30th November 2021 at State Rural Livelihoods Mission, Raipur by Sh.G.V.S.N.Murthy, Scientist E, NIC DRD Informatics Division, New Delhi, which was attended by officials from state and district. The software module has been developed under the able guidance of Ms. Madhuri Sharma, DDG & HoD and Shri D.C.Mishra, DDG & HoG. 
The programme was coordinated by Shri P.ramarao, STD and Shri Rishi Rai, Scientist-B of NIC Chhattisgarh.