Symposium on Data Analytics on 1 Dec 2021 at Assam Administrative Staff College in collaboration with NIC Assam
Kavita Barkakoty, Assam
asm-kavita[at]nic[dot]in
|
Dec 8, 2021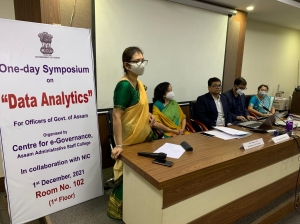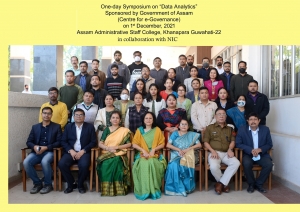 A one day symposium on "Data Analytics" was held at the Assam Administrative Staff College, Government of Assam. The event was held in collaboration with the Centre of E-Governance, Assam Administrative Staff College, Guwahati and National Informatics Centre, Assam and Centre of Excellence for Data Analytics (CEDA). The Symposium was attended by the Officers of various Departments of Government of Assam.

Smt. Vijaylakshmi Barua, ACS, Addl. Director of Training, AASC welcomed the participants and the faculty experts. During the inaugural session. Smt. Hiranmayee Goswami, Senior Technical Director, NIC Assam stressed on the use and need of Data Analytics which in recent times come out as the most important area and a challenge for the Government and how best we can analyze and study the huge data built over the years.

An overview of Centre of Excellence for Data Analytics (CEDA), NIC was given by Shri P. K. Mittal, DDG & MD NICSI through Video Conference. In his address, he explained about various Government projects undertaken by CEDA. Smt. Anjali Dhingra, Senior Technical Director and Senior GM, NICSI gave a brief  description through VC about the importance of Data Analytics while building large databases for government and how these technologies can be leveraged in Government Sectors. Shri Ashutosh P Maurya, Technical Director and DGM NICSI discussed about the Data Analytics Tools in detail and how this can be used for data analytics.  Shri Ankit Pandey, Scientist C, NIC New Delhi gave a brief introduction  about the NIC's  TEJAS VI Tool.    

A total of 35 participants took part in the one-day symposium. The symposium concluded by a vote of thanks from Smt. Nandini Sarma, Course Director AASC.