Visit
Showing 6 to 10 of total 32 records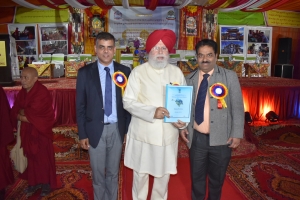 Ajay Singh Chahal, Himachal Pradesh
ajay[dot]chahal[at]nic[dot]in
|
Nov 26, 2018
Sh. S.S. Ahluwalia, Hon'ble Minister of State for Electronics and Information Technology, visited Kangra and Mandi Districts on 9th November, 2018 for the inauguration ceremony of Zabsang Choekhorling Makerspace lab, new era of Artificial Intelligence, at Zabsang Choekhorling Shedra, the...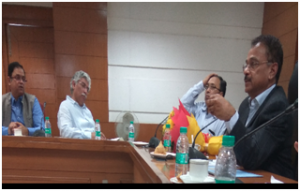 Deepak Sawant, Haryana
sawant[dot]deepak[at]nic[dot]in
|
Oct 30, 2017
End to End Computerization of TPDS Operations in Haryana has achieved incomparable milestones in implementation of the country's largest social welfare scheme, thereby, drawing attention from across the globe. While it has become a role model for the other States in the Country to follow, delegations...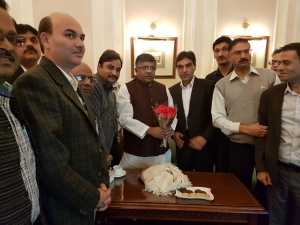 Ajay Singh Chahal, Himachal Pradesh
ajay[dot]chahal[at]nic[dot]in
|
Sep 22, 2017
Sh. Ravi Shankar Prasad, Hon'ble Union Minister for Electronics and Information Technology, Government of India visited Shimla, Himachal Pradesh on 18th September 2017. The Hon'ble Minister was received by the SIO NIC HP at the Jubbarhatti, Shimla Airport along with other MeitY officers....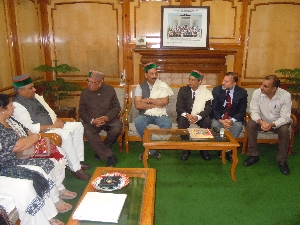 Sandeep Sood, Himachal Pradesh
sood[dot]sandeep[at]nic[dot]in
|
Sep 8, 2017
Sh. V. K. Chaudhary , Hon'ble Speaker, Bihar Vidhan Sabha visited Himachal Pradesh Vidhan Sabha and met Sh. B. B. L. Butail, Hon'ble Speaker, Himachal Pradesh Vidhan Sabha at Shimla on 28th August 2017, to study e-Vidhan System. The Hon'ble Speaker, Bihar Vidhan Sabha has shown...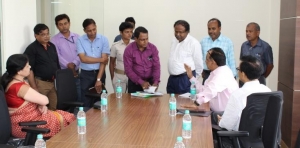 A. K. Hota, Odisha
ak[dot]hota[at]nic[dot]in
|
Aug 9, 2017
Director General, NIC, Smt. Neeta Verma accompanied by Shri S S Gahlout, DDG & Head (Infra.) visited NIC Odisha State Centre, Bhubaneswar on 2nd August 2017. Government of Odisha declared Madam as State Guest and accorded befitting hospitality. DG, NIC was greeted by Shri P. K....