District Level Training Programme on College Accounting Procedure Automation (CAPA) at NIC Dhenkanal on Dt.25.02.2016
A. K. Hota, Odisha
ak[dot]hota[at]nic[dot]in
|
Feb 26, 2016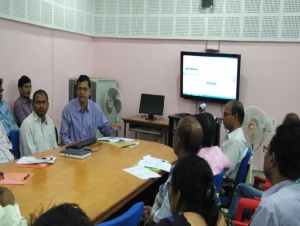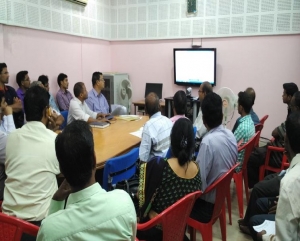 A training programme on College Accounting Procedure Automation (CAPA) Application was conducted for Data Entry Operators, Accountants, Accounts Bursars and some Principals of 14 no of 488 Block Grant Colleges under Dhenkanal District on Dt.25.02.2016.
On his introductory speech Dr. Rabindra Kumar Rath, District Level Consultant, Dhenkanal, welcomed the participants and explained the requirement and effectiveness of online accounting procedure in maintaining transparency and accountability.
Shri D. K. Nanda, TD & DIO, NIC imparted the training on various modules of Accounting Procedures by explaining how to initialize data on Master Data management, Payroll management, Advance management and financial transaction module. Various test records were generated and Payroll was processed by providing some dummy data.
Shri Mrutyunjay Nayak, ADIO, NIC supported to Import/ Export Student data from/ to SAMS database under student area module. Advance paid, refund procedures, different opening balance and other features were exercised thoroughly. The purpose of training was highly satisfactory and well appreciated by the participants. Again it was advised to the participants to test the demo site at their location by using userid & password to look after the functionality of the site and in case any difficulty to communicate further.
The training programme was coordinated by Dr. Rabindra Kumar Rath, District Level Consultant, Dhenkanal. Total 33 no of Participants attended the training programme.