Haryana : 22nd Conference of All India State Election Commissioners at Haryana Bhawan, New Delhi
Neeraj, Haryana
s[dot]neeraj[at]nic[dot]in
|
Apr 17, 2015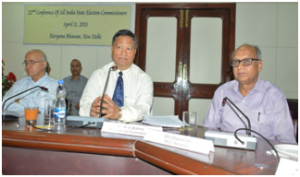 On 11th April 2015 22nd conference of All India State Election Commissioners were held at Haryana Bhawan New Delhi. Sh H S Barhma, Chief Election Commissioner (Election Commission of India) chaired the conference, Sh Dharamvir State Election Commissioners (SEC), Haryana convene the conference whereas other State Election Commissioners of other states participated.
Sh G S Bansal, Dy Director General & SIO (Haryana) and Sh M P Kulshreshtha, Technical Director (NIC) & DIO (Hisar) National Informatics Centre, Haryana State Centre (NIC-HRSC) presented "ICT implementation and Innovations in use of Technology in Municipal Corporation Election 2013, Lok Sabha and Vidhan Sabha (Haryana) 2014 Elections". NIC Haryana emphasis on Path breaking innovations which were used in various above said elections like implementation of the dashboard populated through SMS from all polling booths in Haryana is decision making and monitoring tool for poll management. E-Dashboard during the counting was also implemented during the process.
NIC Haryana has developed and hosted the website of SEC-Haryana. It is helping in preparation of Voters list for ULB/RLB elections and facilitating voters in Claims, Objections, Grievances and Redressals. NIC has provided various pre-poll services as Help Lines, GIS Based Booths Location, Employees Data Digitization, Know Your Candidate and Election Duty Randomization & Assignment Communication Plan. For polling and post polling periods too several services like creation of e-Dashboard for Monitoring Polling & Counting days processes, On-line Web Casting Service from select Sensitive Booths, Dissemination of results and maintaining Database of Elected representatives of PRIs and ULBs have been provided by NIC Haryana.