District Level Science Exhibition Subarnapur (Sonepur) District, Odisha
A. K. Hota, Odisha
ak[dot]hota[at]nic[dot]in
|
Nov 8, 2016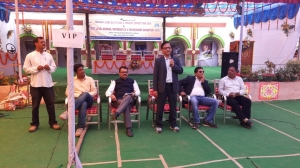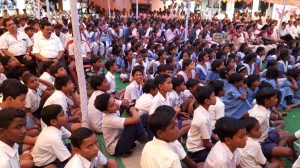 With the aim to encourage young minds on Science, Mathematics & Environment, the District Administration, Subarnapur organised District Level Science Exhibition and Project Competition (DLEPC) at Panchayat Samiti High School, Ulunda, Subarnapur from date 25.10.2016 to 27.10.2016.
On personal invitation from the District Collector, NIC participated in the Valedictory session on 27th October 2016. The session was chaired by Hon'ble Speaker, Odisha Assembly Sri Niranjan Pujari.
Sri P. K. Pramanik, Dy. Director General & SIO, NIC, Odisha, was Chief Speaker in this session and had deliberated his speech along with his team members Dr. R N Behera, STD, Shri P. C. Sahoo, TD & Shri Ashok Routh, DIO Sonepur.
Prior to the valediction ceremony, there was an interactive session with the Scientists of NIC with the young scientists of Subarnapur district (students ) along with their teachers for around 2 hours where the students asked various scientific questions based on ICT which were clarified  by Sri P. K Pramanik , SIO, NIC, Bhubaneswar and his team members. This was highly appreciated among the students as well as the participating science teachers. 
In his speech as Chief Speaker, Sri P.K. Pramanik, Scientist-G, NIC addressed the huge gathering of students and science teachers and advised them to see dreams and try to fulfill with systematic endeavor. They should not think that they are less privileged as technology is now playing a big role to bridge the gap of geographical distance.  
Sir Niranjan Pujhari, Hon'ble Speaker, Government of Odisha, in his speech thanked NIC, Odisha for their presence, scientific interactions with the students and teachers. He appreciated profusely NIC, Odisha for spreading the ICT related projects at such remote district as Sonepur.
On the sidelines of exhibition, different competitions like open Science Quiz, Painting, know your nature, reason behind the experiment etc. were held among the participants.