Training Programme on Bhunaksha 3.0 Software for officials of all Tahasils of Koraput District, Odisha
A. K. Hota, Odisha
ak[dot]hota[at]nic[dot]in
|
Aug 22, 2017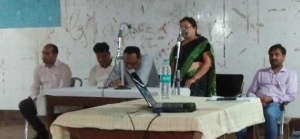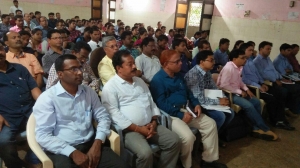 A two day's training programme on Bhunaksa 3.0  software on map correction was held on 18th  and 19th August 2017 in the  Municipality Town Hall for Koraput and Jeypore sub division respectively for all the 14 tahasils in the district. Tahasildars, Addl Tahasildars, RIs, ARIs, Amins and DEOs of Koraput District of the tahasils participated in the training programme.
The training programme was inaugurated by Sri Deben Kumar Pradhan, OAS (SB), PD DRDA and I/C ADM, Koraput in presence of Sri Krutibas Rout, OAS(SB) , Sub Collector Koraput. The other officers participated in the training programme are  Smt Sailabala Prusty, DIO, NIC, Koraput,  Sri N Sasi Kumar, Addl. DIO, NIC Koraput  and Shri Rabindra Kumar Patel OAS-A(J.B.), Tahasildar Dasamantpur as Master Trainer.
Master Trainer explained about Bhunaksa and map correction procedure.  Smt Sailabala Prusty, DIO gave the detail presentation on Bhunaksa and DMS S/W.
The process of map correction using Point Measurement Method through Bhunaksha and DMS  s/w was demonstrated by Shri N Sasi Kumar, Addl DIO. Master trainer of Koraput district i.e. Tahasildar, Dasmanthpur assisted fully in the training programme.
About 200 participants attended the two days training programme. District administration highly appreciated the role of NIC, Koraput in conducting the training as well as the IT support in the district.