Training on Bhunaksha held at Jharsuguda, Odisha
A. K. Hota, Odisha
ak[dot]hota[at]nic[dot]in
|
Aug 16, 2017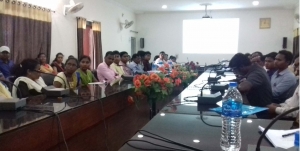 Training programme on Bhunaksha software on map correction was held in the DRDA Conference hall, Jharsuguda, Odisha on 09/08/2017 for all the 5 Tahasil officials and 32 RI officials of Jharsuguda District. The training programme was organized by NIC, District, Unit, Jharsuguda. The main objective of the training programme was to train the participants particularly RI officials on how to make digital correction of maps using Bhunaksha software. The Addl. Tahasildars, R.I.s, ARIs, Amins, Record Keepers and Dealing Clerks of all the Tahasils participated in the training programme.
The training programme was inaugurated by Dr. Sitaram Patel, ADM, Jharsuguda. Other senior officers participated in the training programme include Sri Hemsagar Bhoi, Tahasildar, Lakhanpur, Sri D.K. Bara, Tahasildar, Laikera, Sri G.B.Mangaraj, Tahasildar, Jharsuguda, Jasaswini Pruthal, Addl. Tahasildar, Jharsuguda, Takshakraj Bhitria, Addl. Tahasildar, Jharsuguda and Sri Birasen Behera, Addl. Tahasildar, Lakhanpur.
At the outset ADM, Jharsuguda briefed the participants about the importance and use of Bhunakshaw s/w. Sri Akshya Mishra, DIO, NIC, Jharsuguda gave a detailed presentation on Bhunakshaw s/w and the process of map correction using Point Measurement Method. He informed that in this project the spatial data of village maps both Mosaic and individual sheets are prepared. The spatial data is integrated with textual RoR data. Three master trainers of Jharsuguda district i.e. Tahasildar Jharsuguda, Addl. Tahasildar Jharsuguda  and Addl. Tahasildar Lakhanpur assisted fully in the training programme.
The training programme was divided into two phases. In the first phase a detail theoretical presentation as well as Demo on splitting a plot using point measurement method was given to the participants. In the second phase the participants were given hands on training at NIC Computer Cell. Each RI circle staffs were provided with a system to practice the Bhunakshaw s/w. About 75 participants attended the training programme. District administration highly appreciated the role of NIC, Jharsuguda in conducting the training as well as installing the Bhunakshaw s/w in all the systems of NIC Computer Cell.