Online Inauguration of Science Block of GSSS Jhungi, Mandi by Honourable Chief Minister, HP
Ajay Singh Chahal, Himachal Pradesh
ajay[dot]chahal[at]nic[dot]in
|
Jul 18, 2017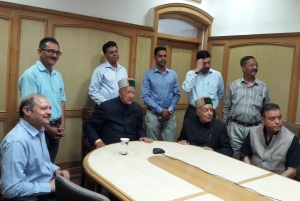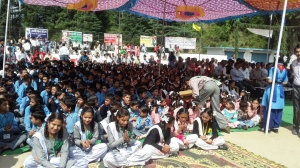 Sh. Virbhadra Singh, Hon'ble Chief Minister of Himachal Pradesh inaugurated the Science Block of Government Senior School, Jhungi in District Mandi using the Video Conferencing set up of NIC on 24th June 2017 from Shimla. The NIC VC facility is used frequently by the Chief Minister office for such online inauguration during the monsoon season when the road connectivity is not reliable.
Hon'ble Ministers for Forest, Sh. Thakur Singh Bharmouri, Excise & Taxation, Sh. Prakash Chaudhary, Officer on Special Duty to Chief Minister, Sh. Amit Pal Singh, Principal Secretary to CM, Sh. T.G. Negi, Additional Chief Secretary, Sh. Shrikant Baldi were present on the occasion.
All the staff and students of the GSSS, Jhungi, District Mandi were present in the School premises and interacted with the Hon'ble Chief Minister and Ministers present in the CM VC Studio in HP Secretariat, Shimla.
The NIC VC set up in CM Office was coordinated by Sh. C.L. Kashyap, Scientist-B and supported by FMS officials at Shimla and GSSS, Jhungi, Mandi with the help of District Administration, Mandi.