Seminar on latest technology in terms of Networking & Data Centre Architecture
A. K. Hota, Odisha
ak[dot]hota[at]nic[dot]in
|
Jun 29, 2017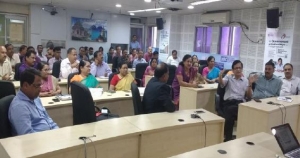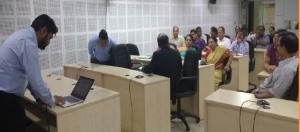 A seminar on "Latest technology in terms of Networking & Data Centre Architecture" was organised at the VCR Hall of NIC, Bhubaneswar on 22nd June 2017 in coordination with Cisco Systems, Inc.
Shri P. K. Pramanik, DDG & SIO initiated the seminar with introductory address on the best practices in Data Centre and latest technology involved in the present scenario.
Er. Kunal Purkayastha, Systems Engineer and Er. Sandipta Mohanty, Country Manager – Govt. & Defence (India & SAARC) gave the detailed presentation on various challenges and solutions thereof in Data Centre architecture.
In the interactive session participants officers of NIC, OSU actively participated and got clarrified on various issues. DIOs and  ADIOS of districts joined over Video Conferencing.
The Seminar was coordinated by Dr. A. K. Hota, STD & Head, State Portal.