Hospital Management System e-Hospital in Maharahtra.
Moiz Hussain, Maharashtra
hussain[at]nic[dot]in
|
Jun 14, 2017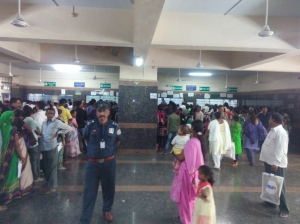 Hospital Management System "ë-Hospital@NIC " is  successfully operational in Maharashtra in 6 Government/Municipal Hospitals since last year.  The software is implemented in 3 Hospitals of Navi Mumbai Municipal Corporation located at Vashi, Airoli and Nerul, , Kamala Nehru Municipal Hospital at Poona,  District Hospital Osmanabad district and All India Institute of Physical Medicine and Rehabilitation(AIIPMR), Government of India, Mumbai.
 In phase I, modules of Patient Registration, OPD management, Patient Admission/Discharge/ Transfer and Billing are implemented.  Monthly, more than  60,000 patients are using this system in these six hospitals.