Training program on BHUNAKSHA for Tahsil Officials at NIC District Unit, Jajpur, Odisha
A. K. Hota, Odisha
ak[dot]hota[at]nic[dot]in
|
Jun 12, 2017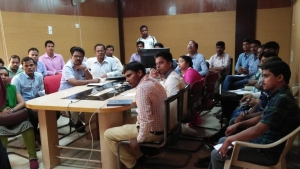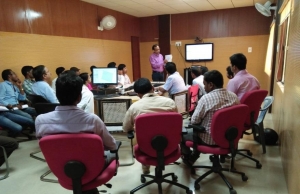 A training program on BHUNAKSHA  was conducted  for Tahsil Officals of Jajpur district on 06.06.2017 at NIC District Centre, Jajpur, Odisha.
Welcoming the participants Sri S M Satpathy, Technical Director and DIO gave a brief introduction about the BHUNAKSHA software and features available. He informed that in this project the spatial data of village maps both Mosaic and individual sheets are prepared. The spatial data is integrated with textual RoR.
Sri Sapan Kumar Nanda, OAS, Tahsildar, Vyasnagar and Sri Pravas Kumar Behera, OAS, Tahsildar, Dharmasala coordinated the hands on training for the participants. Sri Nanda presented the   process of splitting a plot using point measurement method.
Discussing with participants DIO informed that the digitized Cadastral maps of 51,613 villages of Odisha are presently made available on the web for public view. The paper maps which get damaged due to aging factor are now stored in soft digitized format and the retrieval of those maps is easy. The citizen can take printout of the village maps for their references. While viewing RoR one can view or print plot maps available in the concerned RoR.