Haryana - A Vote of Thanks by Capt. Abhimanyu Honble Finance Minister Haryana, for successful preparation of Budget 2017-18 on 17/04/2017
Deepak Sawant, Haryana
sawant[dot]deepak[at]nic[dot]in
|
Apr 21, 2017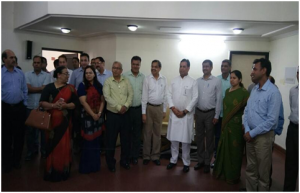 Capt. Abhimanyu, Finance Minister, Haryana hosted   a high tea at Haryana Niwas Chandigarh for the officers of Finance Department and NIC Haryana State Centre involved in preparation of budget preparation exercise for the Financial year 2017-18. SH.  Sh. G.S. Bansal DDG & SIO Haryana along with NIC Finance Department Cell comprising of Sh. Deepak Bansal, Sr. Technical Director, Sh. Virender Trivedi, PSA and Sh. Jagdish Lal Mehndiratta SSA were also present .
Speaking on the occasion he appreciated the  dedicated effort put in by NIC  Haryana Team for providing technical support to the State Finance Department in preparation of a successful budget for the Financial Year 2017-18. There was a special mention of Integrated Financial Management System (IFMS) developed by NIC, Haryana for Financial Management of State. The application is being used by every entity doing any financial transactions in State. Some of the photographs clicked during the event.
The Annual Budget of Haryana 2017-18 was presented by Honble' Finance Minister Haryana, Capt. Abhimanyu on 06/04/2017. The Budget was prepared and presented successfully in Haryana Vidhan Sabha with the active co-operation of NIC, Haryana team with Haryana State Finance Department. The Budget 2017-18 presented in the Vidhan Sabha this year has the following unique features :
Merger of Plan and Non-plan Budget with effect from 2017-18 as per the GOI guidelines.
Preparation of Budget on the Basis of Revenue and Capital budgeting preparation of two new documents for each one.
Presentation of entire Budget on CD's to Minister's and MLA's.
Provision for GST for future implementation
Haryana Budget was presented 15 days advance.
Special provision of funds was made for each department for the year 2017-18 for PRI's and Haryana Governance Reforms Authority
Web portal for the Haryana Budget for the Financial Year 2017-18 was launched.