Haryana Health Minister, Sh. Anil Vij launched website of Haryana Medical Services Corporation on 25/05/2016
Deepak Sawant, Haryana
sawant[dot]deepak[at]nic[dot]in
|
May 27, 2016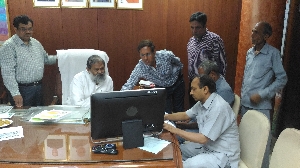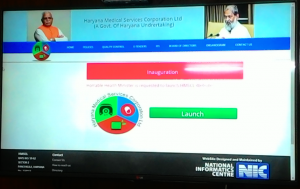 Haryana Health Minister, Sh. Anil Vij launched website of Haryana Medical Services Corporation in presence of ACS (Health) and other Health officers. The website is designed and developed by NIC-Haryana team. The URL of HMSCL website is www.hmscl.org.in
The website will work as bridge between general public and HMSCL. The website is designed and developed by NIC Haryana. The website will provide following information:
Various tenders floated by HMSCL
The corrigendum will be published on this website
Links will be provided for important websites
Contact details of officials working in HMSCL
The Essential Medicine List, Equipment List will be made public
The contracted rates along with the contracted firms will be made public
The blacklisted and debarred firms list will be made public
All statuary disclosures of the company will be published
HMSCL is also planning to put up an education corner on the website for the benefit of Health professionals.
Transparency:  All the steps of medicine procurement are online. The facilities of Health Department up to Primary Health Center all connected with HMSCL online. The demand of all the facilities is taken online, the tendering is done online, placing of orders, preparation of shipment, receiving of supplies, inspection notes, lifting and testing of samples, receiving of test reports, distribution of medicine to Health facilities all the steps are on line.
The equipment portal is under construction and similar portal for medical equipment will be commissioned soon. The online monitoring is also done by Headquarters.